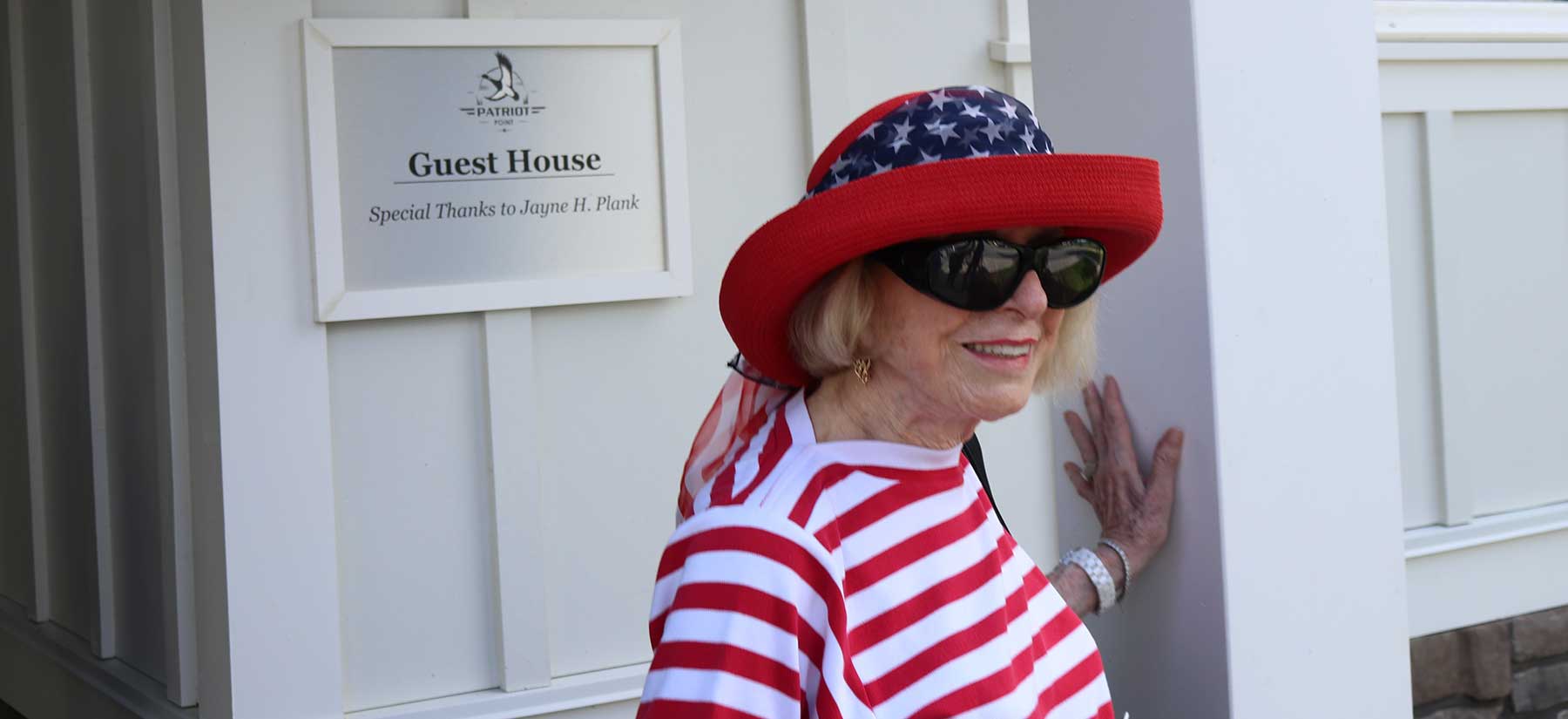 Jayne Plank, Patriot Point Supporter
Jayne Plank grew up in Washington, D.C.. Her father served in the Marine Corps in World War I; her stepfather served in the Marine Air Corps during World War II. She was accustomed to being around service members while growing up and regularly attended home hospitality dinners hosted by family and friends for those stationed in Washington.
So it seemed only natural that when Plank heard about Patriot Point from her son Stuart, that she wanted to help.
"We've always been oriented to the military," Jayne Plank said. "Ours is the greatest country of all. Helping our military and caregivers, it's my joy."
Stuart Plank is one of the founding partners and managing members of Patriot Point. He had been to the property on Maryland's Eastern Shore before, when it was known as Poverty Point, and was aware that it was up for sale after the death of its previous owner, James Bugg.
It was Stuart Plank who approached Military Bowl Foundation President & Executive Director Steve Beck to broach the idea of creating Patriot Point as a retreat for recovering service members to enjoy outdoor recreational activities in a safe environment.
In April 2016, the idea became a reality, as the Military Bowl Foundation purchased the property and renamed it Patriot Point. With 290 acres and 2.3 miles of shoreline not far from the Chesapeake Bay, Patriot Point is a welcome respite for wounded, ill and injured service members, their families and caregivers.
Since establishing Patriot Point, the infrastructure has been significantly overhauled. The Main House, built in 1925, was thoroughly renovated. Jayne Plank donated funding for the renovations of the Guest House, which included new exterior siding and accessibility improvements. She looks forward to sponsoring future projects as the need arises.
"I was thrilled to help," Jayne Plank said. "It was an opportunity to say thank you and share with those who have given so much for us, supporting our freedoms and taking care of our country. Thank you to all of our military and caregivers.
"I love the Eastern Shore. What Patriot Point has done with the property, it is unreal. It's so perfect for so many different things. The fishing and hunting and those wonderful weekend retreats, I've sponsored a couple of those, too. Patriot Point gives these men and women an opportunity to escape and be free for a few minutes. Anything that they need, I want to give."
Plank spent her career as a public servant. She worked as Director of Intergovernmental Affairs at the U.S. Department of State and as a Cryptologic Linguist for the National Security Agency. She also served on the Kensington Town Council and later was the first woman elected as the town's mayor, for a total of 15 years of service to the town. She has served as a eucharistic minister at the National Naval Medical Center in Bethesda and volunteered with the Yellow Ribbon Fund, which is one of Patriot Point's nonprofit partners.
Jayne Plank's recently donated to Patriot Point a set of new flagpoles for the United States, Maryland and Patriot Point flags. Stuart Plank, his son, Casey, and several of Casey's high school classmates assembled the flagpoles, erected them in the newly-landscaped circle in front of the Main House and raised the flags.
"I love our flag and always want to see it fly," Jayne Plank said. "That to me is very important. As my grandson said, it was an opportunity for him to work on something and in 20 years it will be there and he can bring his kids to it. That continuity is important. God bless America, our military and Patriot Point."