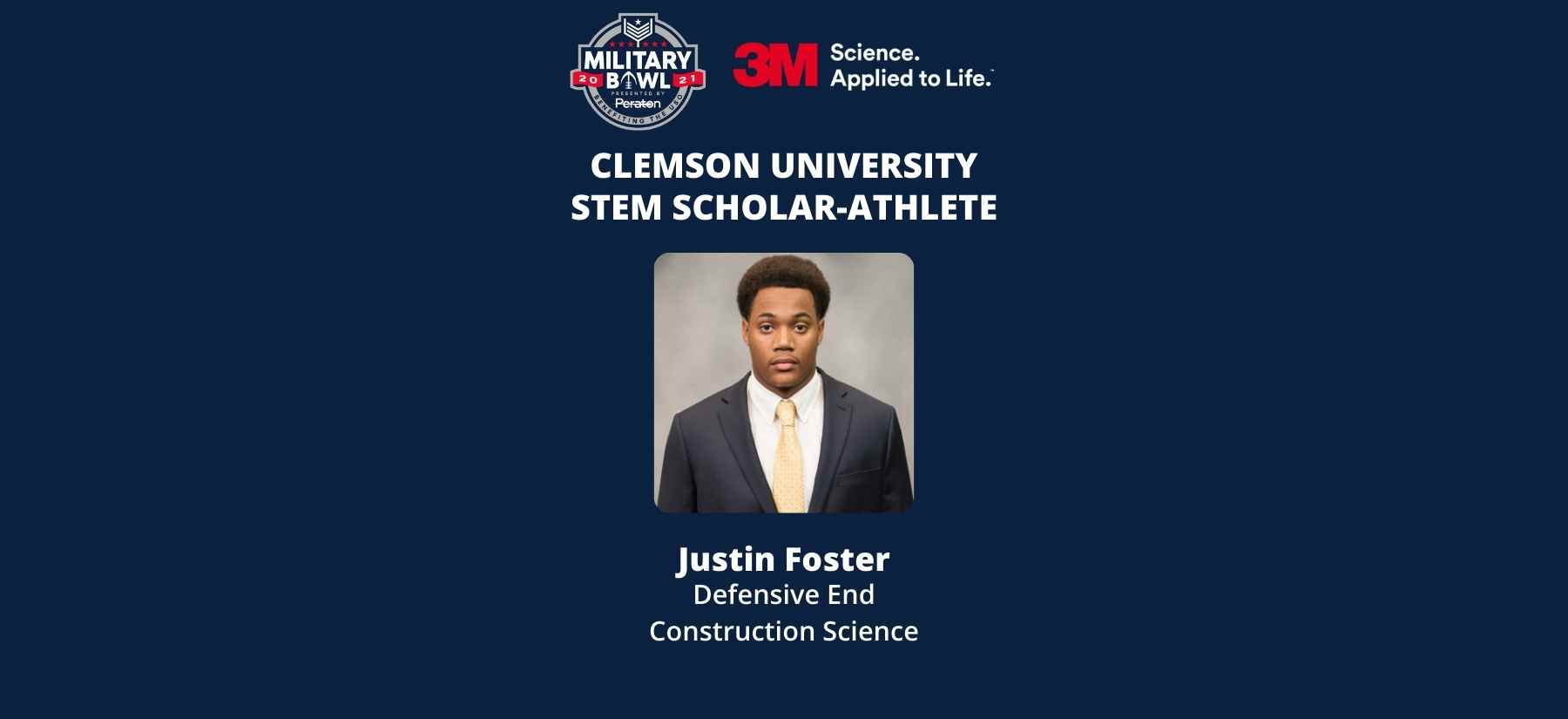 Justin Foster, Clemson University
Clemson University defensive end Justin Foster, a graduate student with a degree in construction sciences and management, has been named a Military Bowl 3M STEM Scholar-Athlete.
Foster, who is from Shelby, North Carolina, has been an honorable mention All-ACC selection as well as All-ACC Academic honoree. He has a 3.24 grade-point average.
"Justin has been a model student-athlete during his time as a member of the Clemson football team," said Matt Lombardi, Clemson Associate Athletic Director for Academic Success. "His grades and accomplishments speak for themselves, but his commitment to furthering his education in a tangible way to position himself for a career after football separate him from others with equal achievements in the classroom.
"Additionally, his humility and heart for service make him a favorite amongst our staff and someone we know will have great success in life."
Foster has worked with J. Davis Construction for several years and served as assistant superintendent on the company's crew that recently renovated part of Clemson's Allen N. Reeves Football Complex. He did not play during the 2020 season and took several months off from football while dealing with long-haul COVID-19 symptoms and asthma.
The Military Bowl 3M STEM Scholar-Athlete Program honors one football player at each university that is a member of the ACC and the American Athletic Conference – the two conferences that are represented in the Military Bowl college football game. These players are studying STEM (science, technology, engineering, math) subjects and/or aspire to STEM careers.
"What an incredible collection of student-athletes, who demonstrate their leadership on the field and in the classroom while tackling challenging subjects that prepare them for the future," Military Bowl President & Executive Director Steve Beck said. "We are thrilled to honor these student-athletes for their dedication and success."
For the two teams that participate in the 2021 Military Bowl, 3M will make a donation in the name of each school's Military Bowl 3M STEM Scholar-Athlete Program representative to their school's general scholarship fund, designated to be used by a STEM major from an under-represented population.
"3M is excited to recognize these outstanding students pursuing degrees in STEM-related fields," said Skip Driessen, Director of 3M Government Markets. "We know how hard these scholar-athletes have worked on the field and in the classroom and look forward to their continued success."