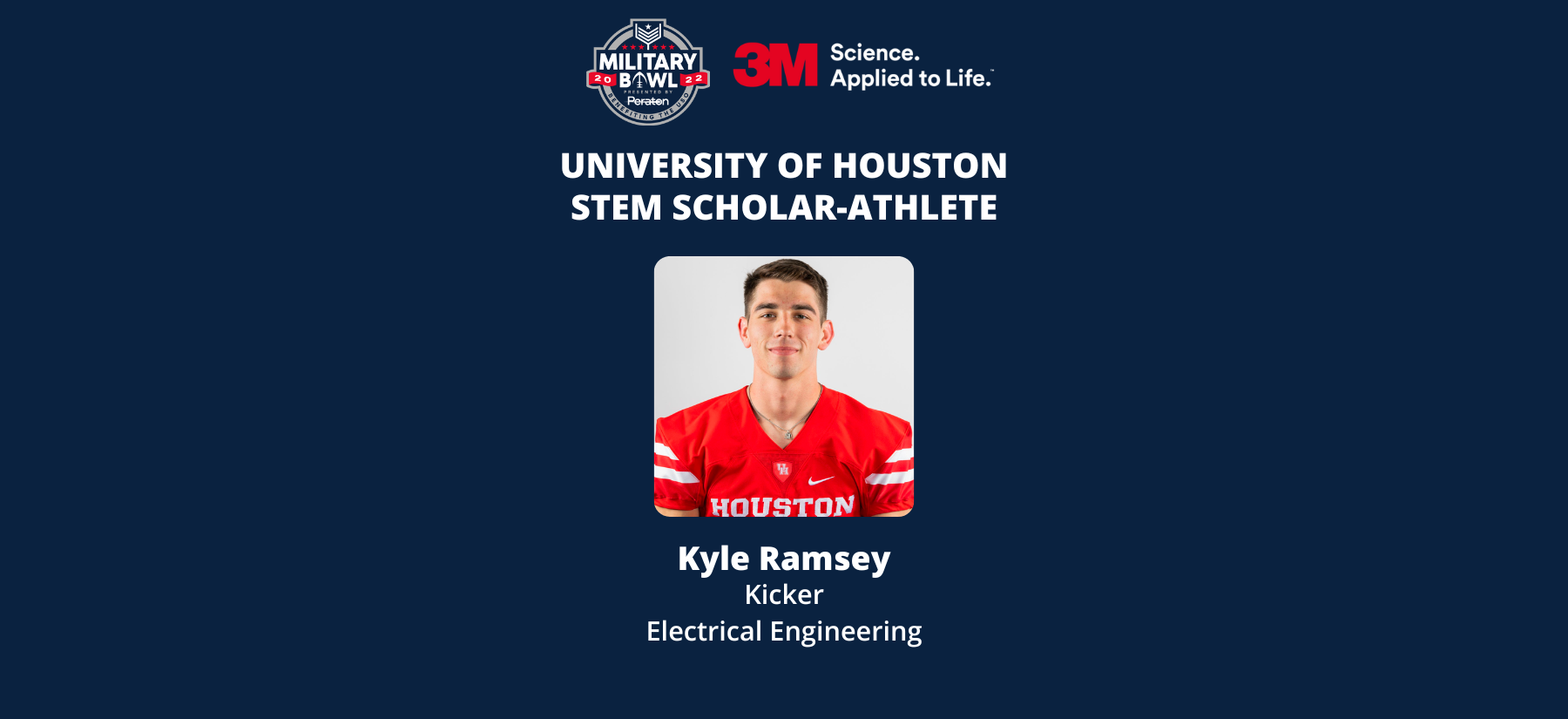 Kyle Ramsey, University of Houston
University of Houston kicker Kyle Ramsey, a sophomore majoring in electrical engineering, has been named a Military Bowl 3M STEM Scholar-Athlete for the second year in a row.
Ramsey, who has several family members who are engineers, has long been interested in science and math. He enjoys problem solving and generating solutions. At Houston, he has worked in the swarm robotics lab, helping construct a robot that tracked and filmed runners in long-distance races.
"I am quite confident that Kyle has defined a challenging career path and every aspect of Kyle's work product is superlative as he is an outstanding role model and academic scholar," said Dr. Frank J. "Fritz" Claydon, director of the division of undergraduate programs at student success at the University of Houston's Collen College of Engineering.
"Kyle is passionate about his studies in electrical engineering. Kyle is an outstanding mentor to his fellow classmates. When considering factors such as one's intellect, independence, maturity, motivation, personality and ability to complete tasks on time and correctly, Kyle is in the top 1% of undergraduate students that I have ever encountered over my 30-year academic career."
Ramsey said that he is especially interested in robotics, programming and computers. Last summer he interned as a design engineer, creating and managing design packages updating the network within power substations to transmit customer power usage data more effectively to the central data collection and storage. Ramsey's other engineering projects have included:
Building a robot that utilized a camera for visualization and human detection, so that the camera could track the person, as well as the robot could drive to follow that person. This was done to automate the filming of races such as a marathon for TV broadcasts.
Being part of a team that built a radio frequency jammer for a lab project that we could use to block music from local radio stations in a very small radius.
Being part of a team that utilized a microcontroller connected to multiple sensors that detected temperature, humidity and carbon dioxide levels in order to create a more efficient HVAC system. His specific contribution was connecting this system to a WiFi chip in order to display the sensor data of the system on a local area network and a website.
The Military Bowl and 3M are proud to announce the members of the second annual Military Bowl 3M STEM Scholar-Athlete Program, recognizing some of the brightest minds taking the football field in the ACC and the American Athletic Conference.
"Once again the Military Bowl 3M STEM Scholar-Athlete Program is shining a light on a remarkable group of student-athletes," Military Bowl President & Executive Director Steve Beck said. "These young men are leaders on and off the field, taking head on the challenges of rigorous course work while helping their teams every Saturday."
The Military Bowl 3M STEM Scholar-Athlete Program honors one football player at each university that is a member of the ACC and the American Athletic Conference – the two conferences that are represented in the Military Bowl college football game. These players are studying STEM (science, technology, engineering, math) subjects and/or aspire to STEM careers.
"3M is excited to recognize these outstanding students pursuing degrees in STEM-related fields," said Skip Driessen, Director of 3M Government Markets. "We know how hard these scholar-athletes have worked on the field and in the classroom and look forward to their continued success."