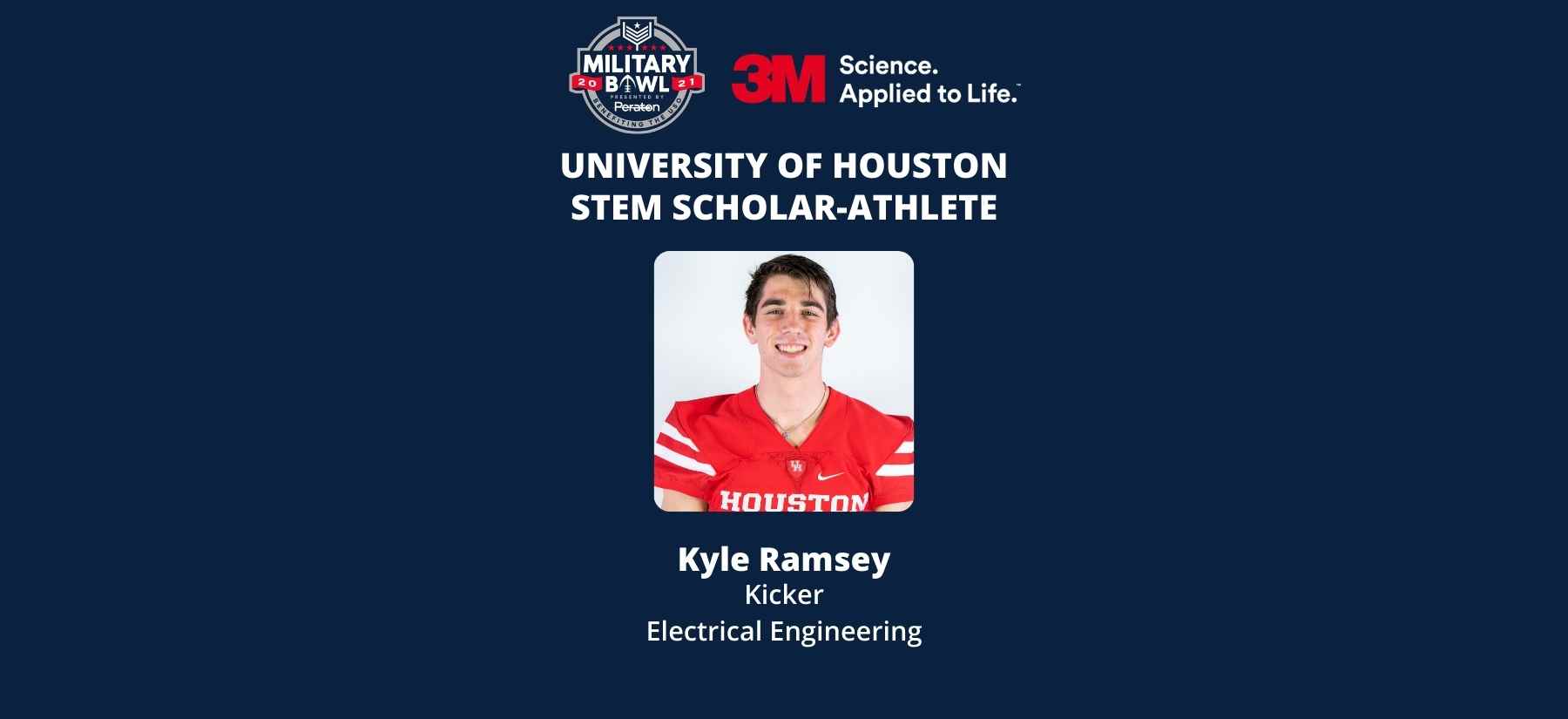 Kyle Ramsey, University of Houston
University of Houston kicker Kyle Ramsey, a sophomore majoring in electrical engineering, has been named a Military Bowl 3M STEM Scholar-Athlete.
Ramsey, who is from Missouri City, Texas, has a 3.882 grade-point average. He is a member of Omicron Delta Kappa honor society and has been invited to join the Tau Beta Pi engineering honor society.
Ramsey has several family members who are engineers and has long been interested in science and math. He enjoys problem solving and generating solutions. At Houston, he worked in the swarm robotics lab, helping construct a robot that tracked and filmed runners in long distance races.
"I am quite confident that Kyle has defined a challenging career path and every aspect of Kyle's work product is superlative as he is an outstanding role model and academic scholar," said Dr. Fritz Claydon, an electrical engineering professor at Houston. "Kyle is passionate about his studies and is an outstanding mentor to his fellow classmates. When considering factors such as one's intellect, independence, maturity, motivation, personality and ability to complete tasks on time and correctly, Kyle is in the top 1 percent of undergraduate students that I have encountered over my 30-year academic career."
The Military Bowl 3M STEM Scholar-Athlete Program honors one football player at each university that is a member of the ACC and the American Athletic Conference – the two conferences that are represented in the Military Bowl college football game. These players are studying STEM (science, technology, engineering, math) subjects and/or aspire to STEM careers.
"What an incredible collection of student-athletes, who demonstrate their leadership on the field and in the classroom while tackling challenging subjects that prepare them for the future," Military Bowl President & Executive Director Steve Beck said. "We are thrilled to honor these student-athletes for their dedication and success."
For the two teams that participate in the 2021 Military Bowl, 3M will make a donation in the name of each school's Military Bowl 3M STEM Scholar-Athlete Program representative to their school's general scholarship fund, designated to be used by a STEM major from an under-represented population.
"3M is excited to recognize these outstanding students pursuing degrees in STEM-related fields," said Skip Driessen, Director of 3M Government Markets. "We know how hard these scholar-athletes have worked on the field and in the classroom and look forward to their continued success."