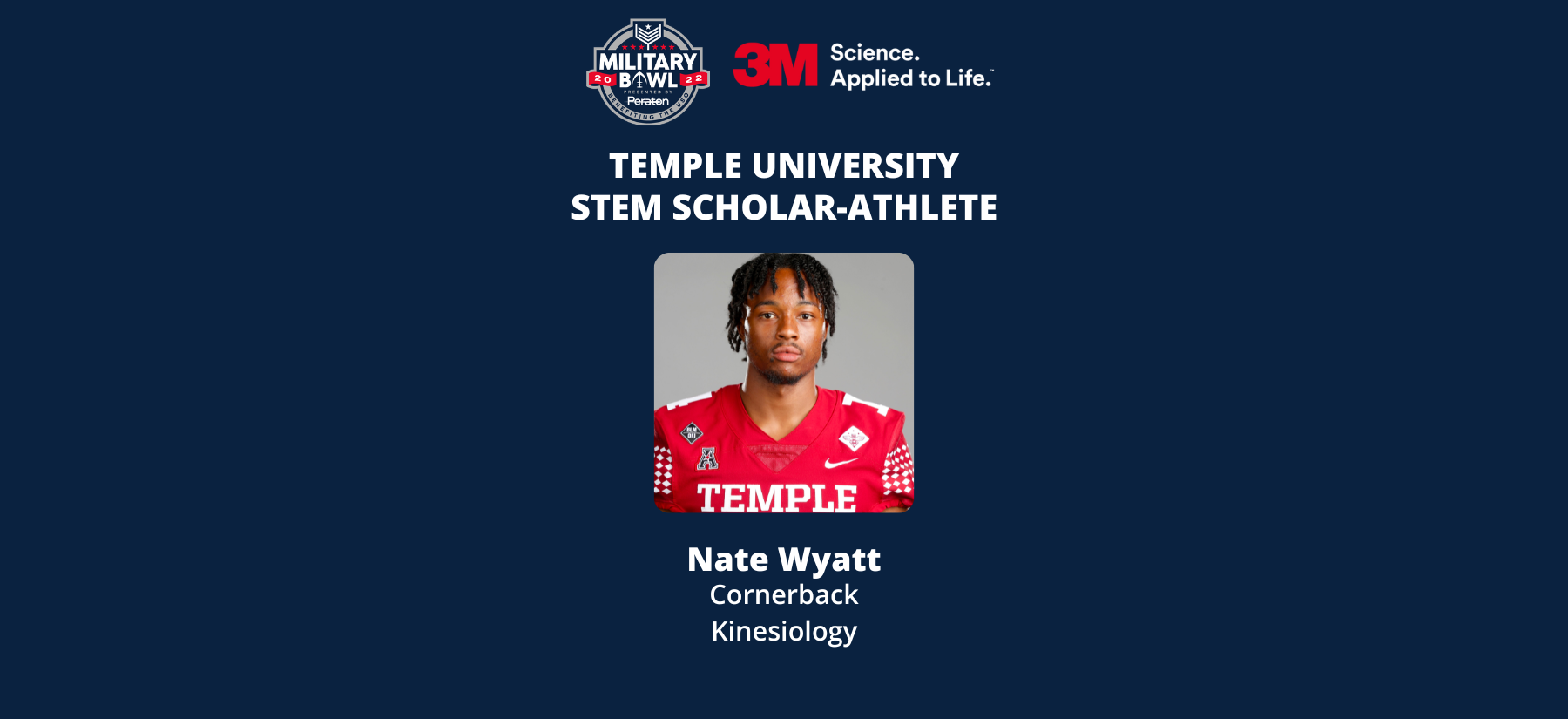 Nate Wyatt, Temple University
Temple University cornerback Nate Wyatt, a redshirt sophomore majoring in kinesiology, has been named a Military Bowl 3M STEM Scholar-Athlete.
Wyatt, who is from Somerset, New Jersey, has a 3.94 grade-point average and is a three-time member of the American Athletic Conference All-Academic Team. He also has been named to the Arthur Ashe Jr. Sports Scholar Awards Roster by Diverse: Issues in Higher Education, honoring students of color who excel in the classroom as well as on the athletic field.
Last spring, Wyatt was part of a group of students that took part in Temple's School of Sport, Tourism and Hospitality Management study-abroad program and spent a week in Rome. He also completed a data coding internship over the summer with the Temple Vice Provost for Academic Affairs, Assessment and Institutional Research. Wyatt has expressed an interest in going to medical school.
"Nate is an extremely bright, independent student," said Jenn Locey, assistant director of Temple's Nancy & Donald Resnick Academic Support Center for Student-Athletes. "Nate is intrinsically motivated and has exceptional drive to be an outstanding student and athlete and make the most of his time here at Temple. Given Nate's academic success and drive he has a multitude of opportunities awaiting him once he graduates this spring and I am looking forward to watching him explore those options further this fall."
The Military Bowl and 3M are proud to announce the members of the second annual Military Bowl 3M STEM Scholar-Athlete Program, recognizing some of the brightest minds taking the football field in the ACC and the American Athletic Conference.
"Once again the Military Bowl 3M STEM Scholar-Athlete Program is shining a light on a remarkable group of student-athletes," Military Bowl President & Executive Director Steve Beck said. "These young men are leaders on and off the field, taking head on the challenges of rigorous course work while helping their teams every Saturday."
The Military Bowl 3M STEM Scholar-Athlete Program honors one football player at each university that is a member of the ACC and the American Athletic Conference – the two conferences that are represented in the Military Bowl college football game. These players are studying STEM (science, technology, engineering, math) subjects and/or aspire to STEM careers.
"3M is excited to recognize these outstanding students pursuing degrees in STEM-related fields," said Skip Driessen, Director of 3M Government Markets. "We know how hard these scholar-athletes have worked on the field and in the classroom and look forward to their continued success."