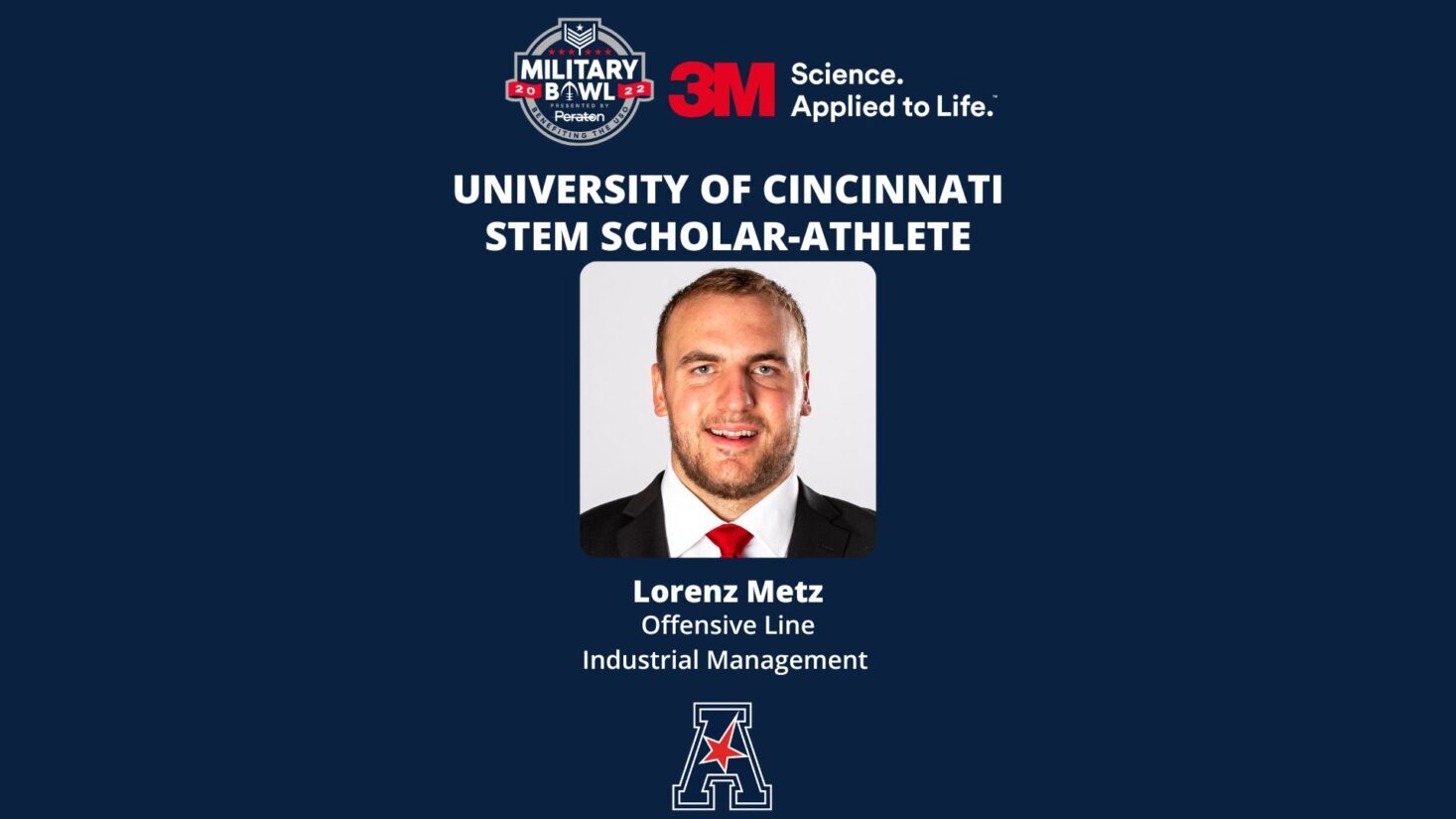 Lorenz Metz, University of Cincinnati
University of Cincinnati offensive tackle Lorenz Metz, who graduated with a degree in industrial management and is pursuing a graduate degree in business analytics, has been named a Military Bowl 3M STEM Scholar-Athlete.
Metz, who is from Neuotting, Germany, has excelled on the football field and in the classroom at Cincinnati. He was named first-team All-American Athletic Conference last season after leading an offensive line that paved the way for an offense that averaged that ninth-most yards per play nationally. Metz also was named a CoSIDA second-team Academic All-American.
Metz also received the Outstanding Undergraduate Industrial Management Student of the Year after graduating with a 3.909 grade-point average. After one semester of graduate school, he has a 4.0 GPA.
"Generally, I teach large lectures, so it is certainly possible for a student to blend into a class; however, Lorenz Metz is not one of those students," University of Cincinnati adjunct professor Edward Winkofsky said. "He sat in the front of the class and is both outgoing and inquisitive. I was also impressed by the way he managed his class work and a demanding athletic program. Lorenz did exceptionally well in my classes and for that matter on the field as well."
Growing up in Germany, Metz always had an interest in math and science. He completed a chemical tech apprenticeship prior to coming to the United States. He majored in industrial management because it combined his love for engineering and his interest in business. In the program, he was exposed to several coding languages and data analytics, which were his favorite classes. He also the opportunity to code a robot in one class and create data visualization in others.
Metz's dream career is to find something that combines his interest in industrial management and analytics.
"We've never had to worry about Lorenz in the classroom," Cincinnati Coach Luke Fickell said. "He was an academic All-American this past year, and it feels like every other month somebody is coming in and telling me Lorenz won another academic award, or he's been accepted into the toughest graduate program in the school."
The Military Bowl and 3M are proud to announce the members of the second annual Military Bowl 3M STEM Scholar-Athlete Program, recognizing some of the brightest minds taking the football field in the ACC and the American Athletic Conference.
"Once again the Military Bowl 3M STEM Scholar-Athlete Program is shining a light on a remarkable group of student-athletes," Military Bowl President & Executive Director Steve Beck said. "These young men are leaders on and off the field, taking head on the challenges of rigorous course work while helping their teams every Saturday."
The Military Bowl 3M STEM Scholar-Athlete Program honors one football player at each university that is a member of the ACC and the American Athletic Conference – the two conferences that are represented in the Military Bowl college football game. These players are studying STEM (science, technology, engineering, math) subjects and/or aspire to STEM careers.
"3M is excited to recognize these outstanding students pursuing degrees in STEM-related fields," said Skip Driessen, Director of 3M Government Markets. "We know how hard these scholar-athletes have worked on the field and in the classroom and look forward to their continued success."