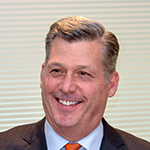 MAC CURTIS, MILITARY BOWL FOUNDATION BOARD MEMBER
Mac Curtis knows the value of giving back, both to the community and to the men and women who serve our country in the armed forces.
That's why Curtis joined the Military Bowl Foundation Board of Directors in 2018 when he was serving as president and CEO of Vencore, Inc. After Vencore merged with another company to form Perspecta, Curtis continued his involvement with the Bowl. Two years later, Curtis — then the Chairman and CEO of Perspecta — helped that company become the new presenting sponsor of the National Capital Region's college football bowl game. Perspecta subsequently was purchased by Peraton, which became the Bowl's presenting sponsor.
Curtis, a graduate of the Virginia Military Institute with a degree in civil engineering, is an avid college football fan.
"Mac certainly shares the Military Bowl's commitment to honoring and supporting our nation's service members," Military Bowl Foundation President & Executive Director Steve Beck said. "Mac knows the both the value of the Bowl as well as the value of supporting the nation's service members."
Curtis was named one of 2020's "50 Most Influential Virginians" by Virginia Business magazine and has been recognized on numerous occasions for his business and community accomplishments. He won the prestigious Greater Washington GovCon Award for Executive of the Year in the greater than $300 million category in November 2019. Curtis also led an effort to raise nearly $1.5 million for the American Heart Association as chair of the 2020 Heart Ball.
"Supporting the men and women of the military was foundational to our corporate culture at Perspecta," Curtis said. "Nearly 20 percent of our then-nationwide workforce was comprised of veterans and reservists, so it was a natural fit for Perspecta to sponsor the Military Bowl and foster the incredible mission of the Military Bowl Foundation which benefits the USO-Metro and Patriot Point."