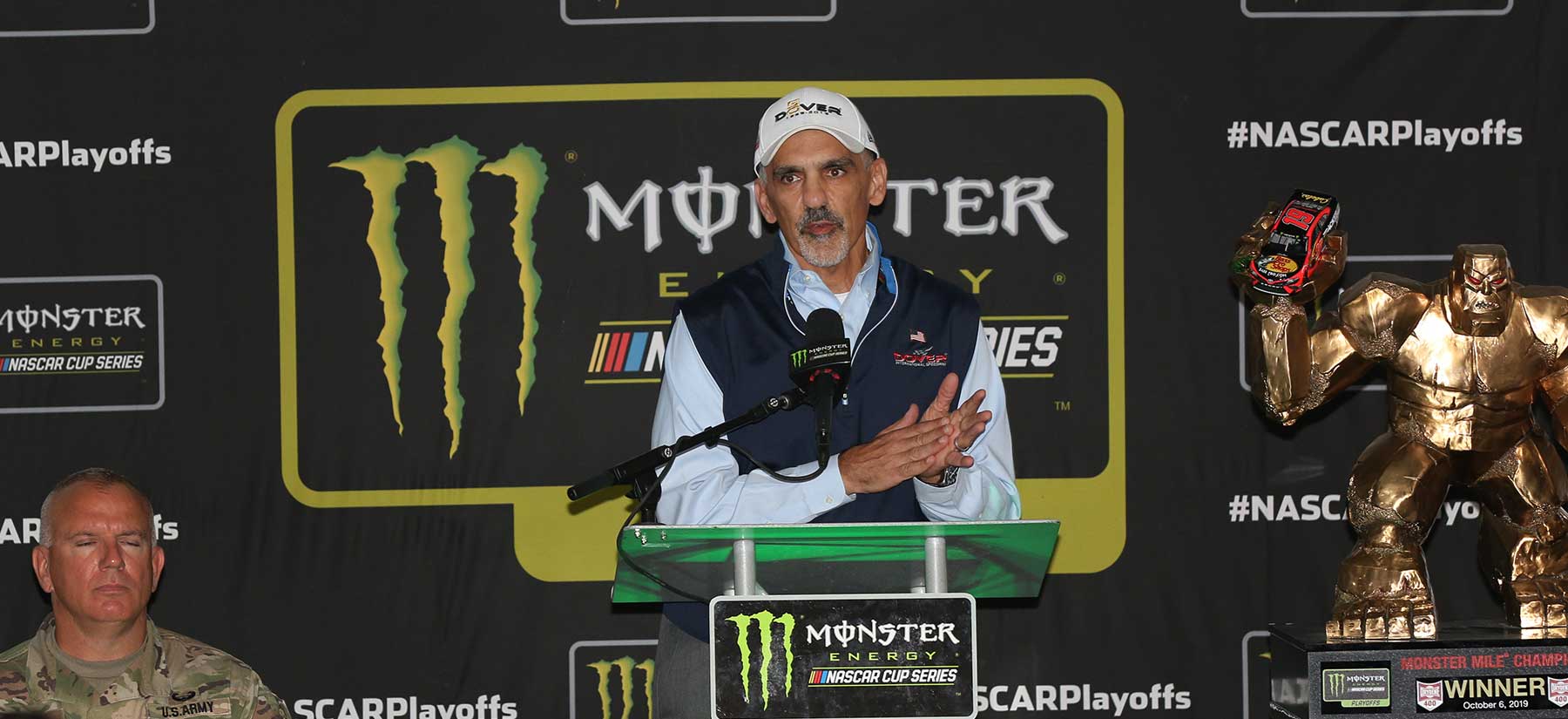 Mike Tatoian, Military Bowl Foundation Board of Directors
A former college football player, Mike Tatoian immersed himself in the community after being hired as the President and Chief Executive Officer of Dover International Speedway. He volunteered with USO Delaware and found it incredibly rewarding.
Tatoian was aware that the Military Bowl benefited another USO chapter, USO of Metropolitan Washington-Baltimore, and wanted to learn more about the National Capital Region's college football bowl game. He reached out to USO-Metro and offered to volunteer at the 2018 Military Bowl.
So the leader of one of the Mid-Atlantic Region's top sporting venues was stationed at a table welcoming guests to the pregame Medal of Honor/USO Reception.
"Wherever they needed a warm body – although it was a little chilly that day," Tatoian said. "We rotated into the reception for warmth. It was there that I saw [Military Bowl Foundation President & Executive Director Steve Beck] interviewing the Medal of Honor Recipients. That was so cool to me. It was awesome."
Tatoian stayed for the game as Cincinnati beat Virginia Tech, 35-31, before a near-capacity crowd at Navy-Marine Corps Memorial Stadium. Tatoian saw how the Bowl used its platform to raise awareness for and support service members. A few weeks later, Tatoian emailed Beck.
"It was really a cold call to Steve. He didn't know me and I didn't know him," Tatoian said. "I just wanted to help. The underpinnings of the organization were right at the crosshairs of all that I was passionate about: military families, college football, the USO and Patriot Point."
"I wrote to him and said, 'Here's what I do for a living. Here is my passion. Maybe I can be of some assistance to you in any capacity.' That's how it started."
Shortly thereafter, Tatoian joined the Military Bowl Foundation's Board of Directors, bringing a career of expertise in the sports and entertainment industry, including leading Dover, where he also serves as Executive Vice President and Chief Operating Officer of Dover Motorsports, Inc.
A three-year starter on the offensive line at the University of Northern Iowa, Tatoian remains passionate about college football. And he is just as passionate about helping service members.
"My dad is a Korean War veteran, he was a marine," Tatoian said. "The passion for me really started when I moved to Delaware in 2007. I'd never been on a military installation before. I was asked to be a board member on an Advisory Council at Dover Air Force Base. I learned about the mission of the USO and more specifically, the mission of USO Delaware, which is unlike any other in the world.
"Dover Air Force Base is the only port mortuary in the Department of Defense. If any American soldiers die overseas, they return here and we have a small role in that. When you see these heroes returning in a transfer case, it's pretty moving. I never served and the only way I can serve now is to serve those who are serving for us. It's a bit life-altering really, one of those defining moments."
Additionally, Tatoian was part of the Dover AFB Honorary Commander Program and now volunteers at the Pentagon in the U.S. Air Force and U.S. Space Force Civic Leader Program. He was named the 2019 Comcast Community Champion of the Year. Although his schedule is busy, Tatoian remains motivated to help the Military Bowl continue to grow.
"Because I know where the funds are going," Tatoian said. "I believe in what the organization is doing for people and the mission of Patriot Point and the mission of the USO. Everyone that is involved has their heart into this and doing it to raise money for missions that we are all passionate about. It is about taking care of our military members and our veterans.
"Obviously, being a fan of college football, it's fun to be a part of it. But ultimately, we put it in all this work to keep these things vibrant for those who serve our country. If there is something I can do to help, even just a little bit, that's what I want to do."