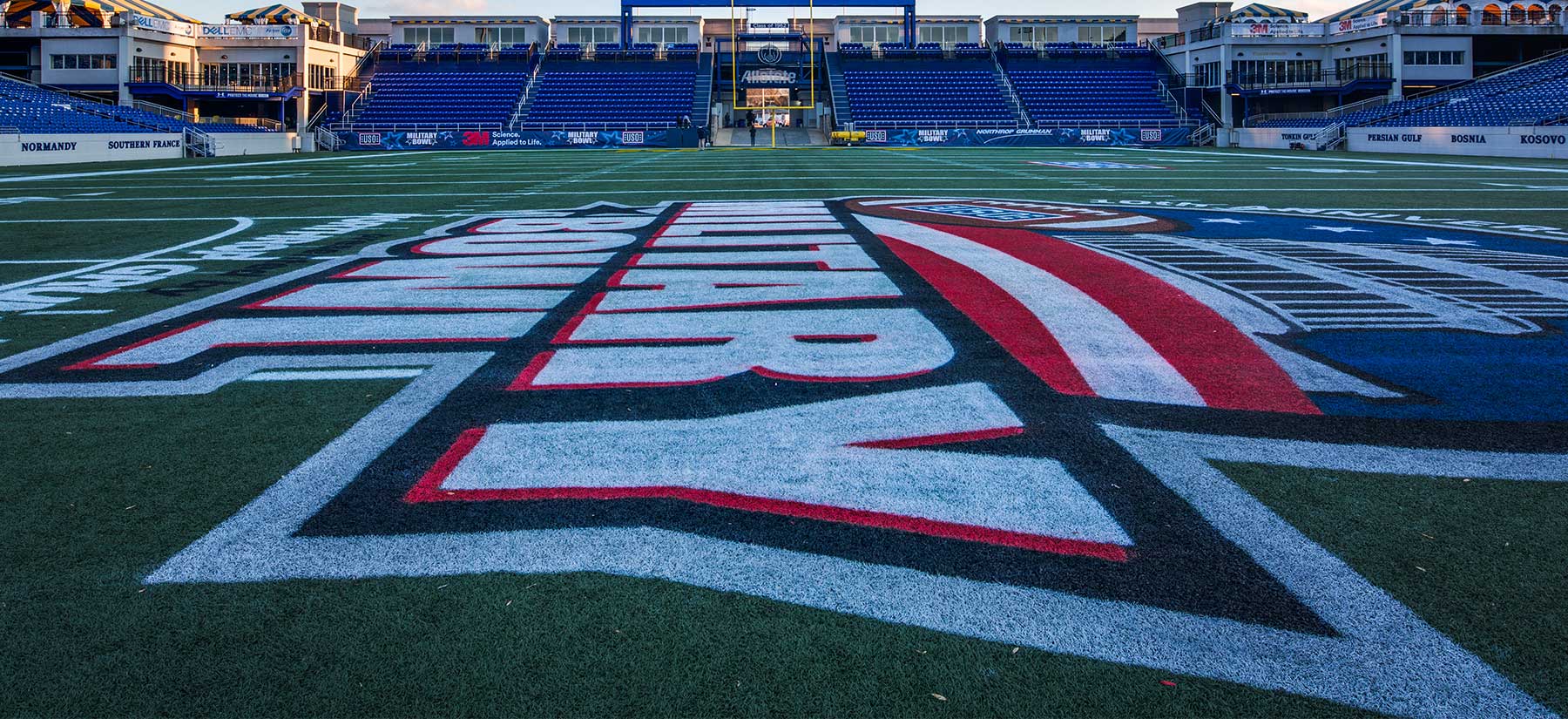 MILITARY BOWL EXTENDS PARTNERSHIP WITH ACC AND THE AMERICAN
The Military Bowl presented by Northrop Grumman, benefiting USO of Metropolitan Washington-Baltimore, today announced that it has extended its partnership with the Atlantic Coast Conference and the American Athletic Conference to have teams from those conferences meet in the National Capital Region's college football bowl game.
Representatives of the ACC and The American will continue to meet in the Military Bowl through 2025.
This year's game will kick off on Friday, Dec. 27 at noon ET at Navy-Marine Corps Memorial Stadium in Annapolis and will once again be televised on ESPN.
"We're thrilled to maintain our partnerships with the ACC and The American," Military Bowl Foundation President & Executive Director Steve Beck said. "Teams from these conferences have provided terrific Military Bowl memories over the past several years and we look forward to many more memorable moments in the years to come."
The ACC has been a partner of the bowl since the bowl's inception in 2008. ACC teams are 4-4 all-time in the bowl, including Wake Forest's 29-19 victory over Navy in the inaugural EagleBank Bowl.
The bowl has partnered with The American since its reconstitution in 2013. Teams from The American are 3-2 all-time in the Military Bowl, including Cincinnati's 35-31 victory over Virginia Tech in the 2018 Military Bowl.
In five Military Bowl matchups between teams from the ACC and The American, the bowl has been played before an average stadium capacity of 97.7 percent with three sellouts, continuing to positively impact the regional economy.
This past year, for the ninth consecutive bowl season, the Military Bowl provided more than $100,000 to USO-Metro and provided complimentary tickets to military personnel and their families. The Bowl also benefits Patriot Point, the Military Bowl Foundation's 290-acre retreat for recovering service members, their families and their caregivers on Maryland's Eastern Shore.
For the latest updates and to stay updated on when parking and tickets go on sale, visit www.militarybowl.org, follow @Military Bowl on Twitter and Instagram or like the Military Bowl presented by Northrop Grumman on Facebook.