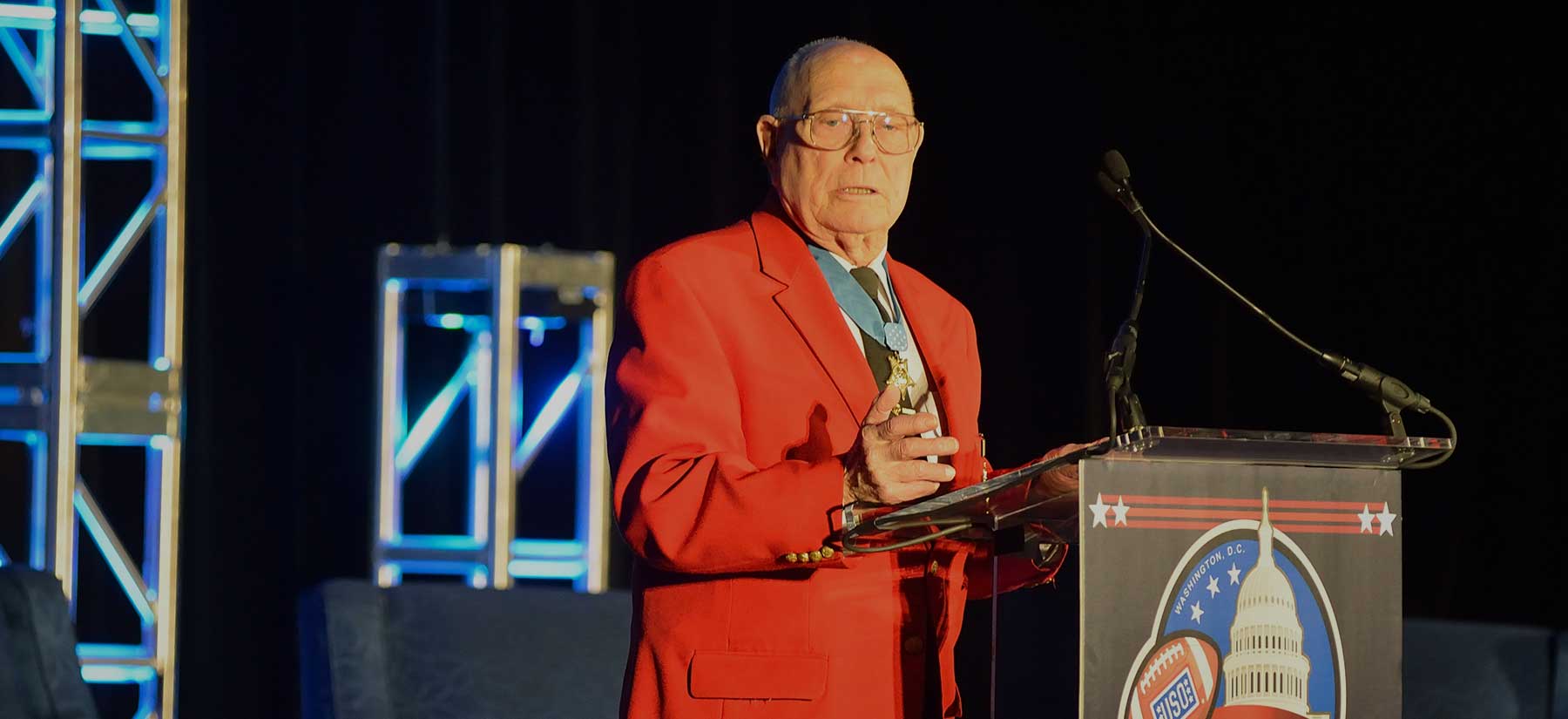 MILITARY BOWL FOUNDATION MOURNS PASSING OF WOODY WILLIAMS
The Military Bowl Foundation mourns the passing of Medal of Honor Recipient Hershel "Woody" Williams, a longtime friend of the Military Bowl who passed away on Wednesday. Williams was 98 years old.
Williams originally was denied enlistment in the U.S. Marine Corps, because he was only 5 feet 6. But he persisted and eventually was allowed to enlist. He was the last surviving Medal of Honor Recipient from World War II. He was presented the Medal of Honor, the nation's highest military decoration for acts of valor in the face of enemy danger, in 1945 by President Harry S. Truman.
Following the war, Williams worked for the Department of Veterans Affairs for 33 years. He retired from the Marines after serving 20 years on active duty and in the reserves. Williams later created the Woody Williams Foundation and established 103 Gold Star Families Memorial Monuments, with 62 more in the process of being created.
The Huntington VA Medical Center, where Williams passed away, was named in his honor in 2017 and the following year the U.S. Navy commissioned a ship in his honor. Williams also conducted the pregame coin toss before Super Bowl LII in 2018.
An ardent football fan, Williams attended the Military Bowl on several occasions, accompanied by his nephew Brent Casey and several other relatives. Williams performed the pregame coin toss at the 2012 Military Bowl, spoke at the 2013 Military Bowl Teams Luncheon and was the 2017 Military Bowl Parade grand marshal.
"Woody was one of the most amazing people," Military Bowl Foundation President & Executive Director Steve Beck said. "He valiantly served his country during World War II and then dedicated much of his life to helping others who also served the nation. It always brought a smile to my face – and everyone else in the room – when Woody walked in. He carried himself with grace, humility and integrity, always striving to assist others. We will miss him greatly."