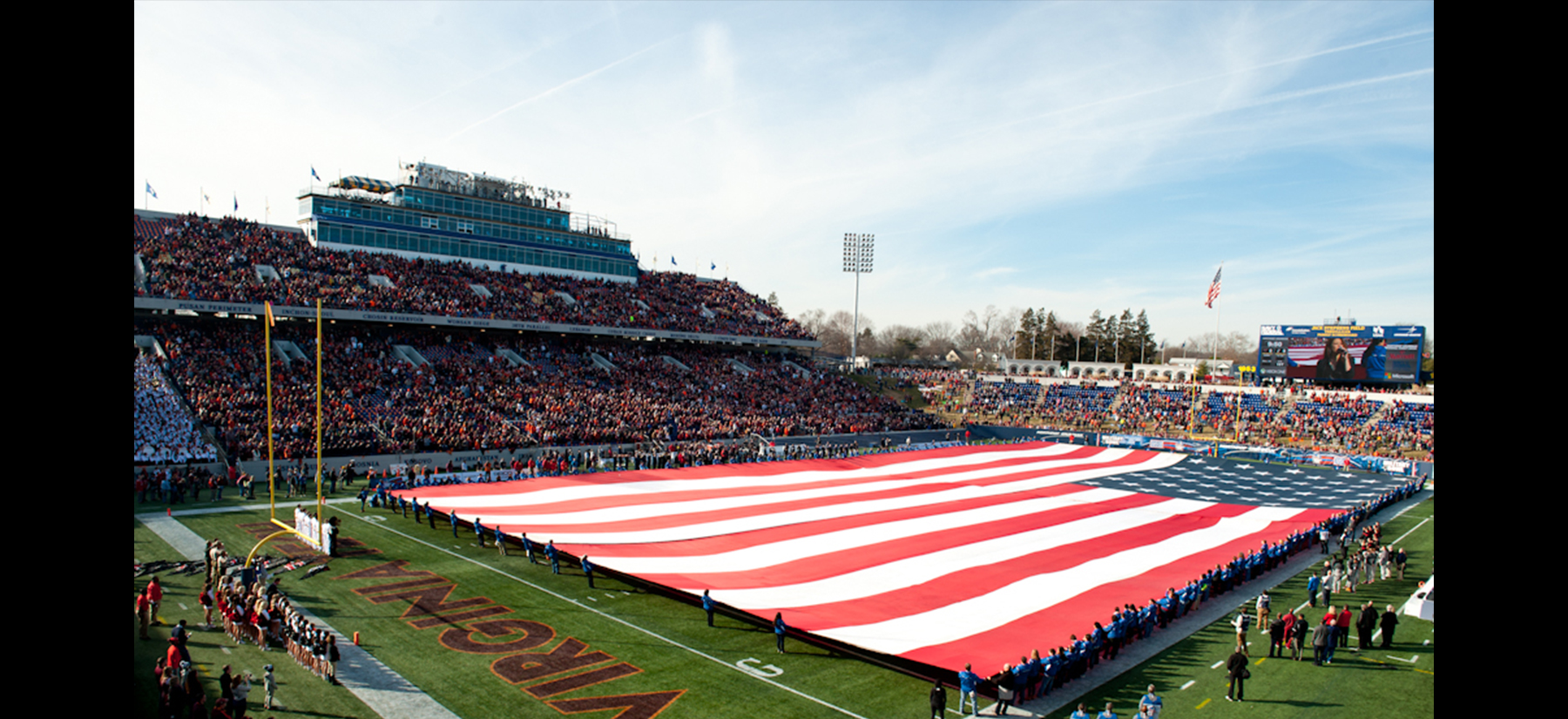 MILITARY BOWL GAME ELEMENTS
The MILITARY BOWL OFFICIAL TAILGATE starts at 9 am in the Blue parking lot on the west side of the stadium, with music, entertainment, military displays and more with food/beverages available for purchase.
The MILITARY BOWL PARADE, featuring the world-famous Budweiser Clydesdales, 12 Medal of Honor Recipients and including more than 80 entries, kicks off at 9 am at City Dock and proceeds to Navy-Marine Corps Memorial Stadium. Fidelity First, Starbucks and Navy Federal Credit Union are sponsors of the Military Bowl Parade.
Fans are encouraged to be in their seats by 11:30 am when the PREGAME PAGEANTRY begins. The pregame pageantry is sponsored by Dell EMC and Future Tech Enterprise Inc. DJ KORUPT, who spins in the hottest spots in D.C., will be entertaining fans throughout the game.
TEAM FASTRAX PARACHUTE JUMP TEAM consists of military veterans from the Rangers, Special Forces and Airborne units who have combined to make more than 300,000 skydives. GE Aviation is the sponsor of the parachute jump. Today's jumpers are:
Landing first and bringing in today's Game Ball is John Hart II, a U.S. Army Special Forces veteran.
Landing second with the five flags of the United States armed forces is Nicole Condrey, a 15-year veteran of U.S. foreign service.
Landing with the Honor and Remember Gold Star flag is Everett Joiner, an active-duty U.S. Air Force service member.
Landing with the Purple Heart flag is U.S. Air Force veteran Mike Bursaw.
Landing last with the American flag is Dana Bowman, a veteran U.S. Army Sergeant First Class, having served as a Special Forces soldier and member of the Army parachute team, the Golden Knights. Bowman is a double amputee, who lost his legs in a mid-air collision during Golden Knights training.
Singing today's NATIONAL ANTHEM is Miss America 2019 Nia Franklin, an East Carolina University graduate and opera singer who now lives in New York City.
The GIANT AMERICAN FLAG will be unfurled by Northrop Grumman and USO-Metro volunteers.
TODAY's FLYOVER features a Coast Guard MH65 Dolphin helicopter flyover from USCG Air Station Atlantic City.
TICKETS FOR TROOPS, which provided complimentary tickets for active-duty service members and their family members, is sponsored by Northrop Grumman; 3M; Dell EMC; Future Tech Enterprise Inc.; Perspecta; and Werner Enterprises.
Today's 3M SIDELINE REPORTER is television personality Bram Weinstein.
Retrieving the kicking tee from today's opening kickoff is 3M PLAY TO WIN AWARD WINNER Afton Terry, a sixth-grader at Arundel Middle School in Odenton, Md.
At midfield for the COIN TOSS will be Maryland Governor Larry Hogan, along with 12 Recipients of the Medal of Honor, the nation's highest military decoration presented for acts of valor in the face of enemy danger:
11 Recipients were presented the Medal of Honor for their actions in the Vietnam War: Doc Ballard, Barney Barnum, Mike Fitzmaurice, Hal Fritz; Tom Kelley, Jim McCloughan, Bob Patterson, Alfred Rascon; Kenenth Stumpf; Brian Thacker and Mike Thornton
Ronald Shurer was presented the Medal of Honor for his actions while serving in Afghanistan.
The ENLISTMENT CEREMONY at END 1Q will see 110 young men and women take an oath administered by U.S. Navy Rear Admiral Carl Lahti.
During the second quarter, the WASHINGTON NATIONALS RACING PRESIDENTS will take the field for a special in-game race.
The HALFTIME SHOW features the Virginia Tech Marching Virginians and the University of Cincinnati Marching Band.
HALFTIME PRESENTATION: The Maryland Building Industry Association, through its official charity, Home Builders Care Foundation, will present a $100,000 donation to Patriot Point, the Military Bowl Foundation's 290-acre retreat for wounded, ill and injured service members.
During the third quarter, the Military Order of the Purple Heart will issue a proclamation designating the Military Bowl presented by Northrop Grumman as a "PURPLE HEART GAME" because of the Bowl's support of veterans, the combat wounded and Purple Heart Recipients.