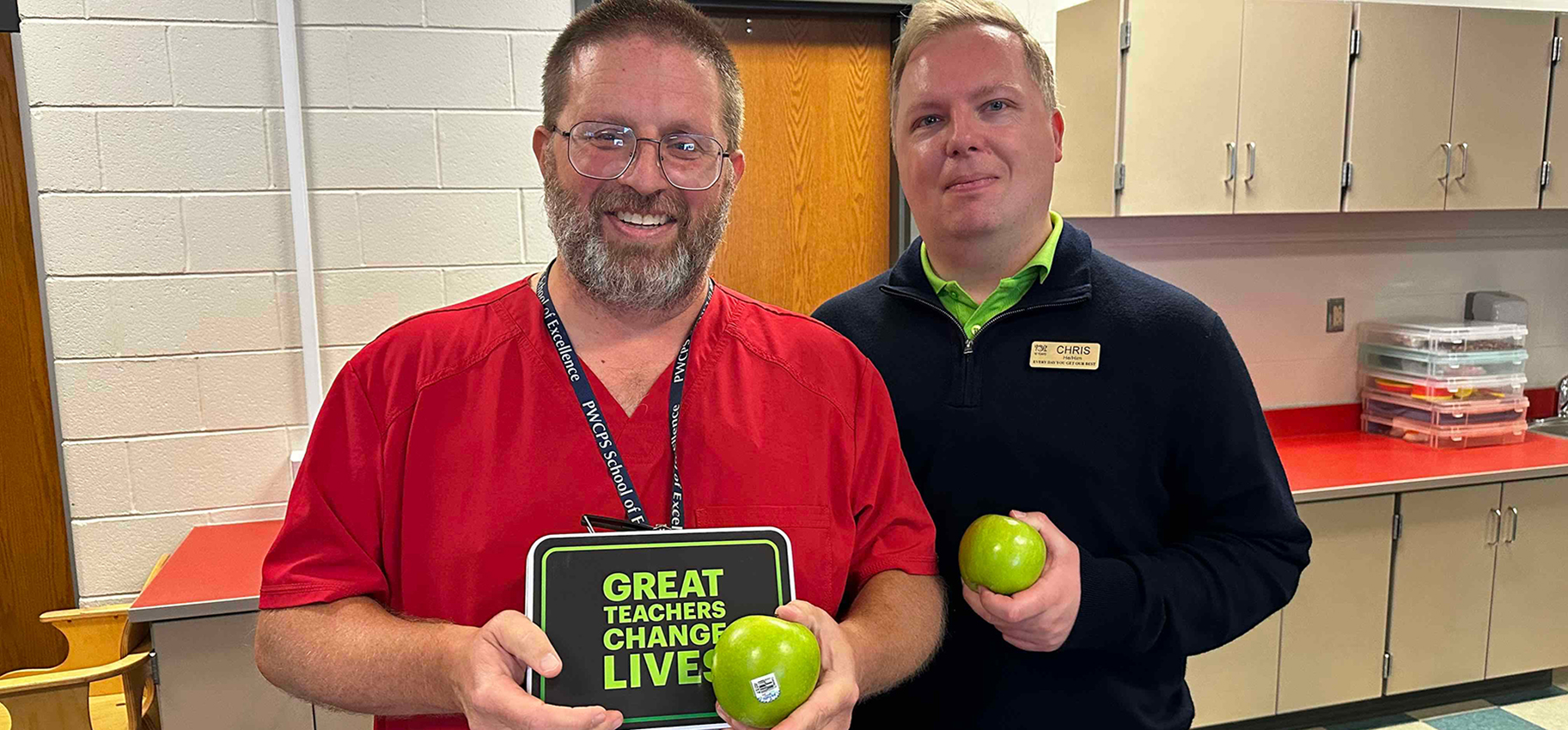 Military Bowl and Wegmans Honor U.S. Navy Veteran on Big Day for Teachers
The Military Bowl Foundation and its new partner, Wegmans Food Markets, Inc., on Tuesday surprised Prince William County special education teacher and U.S. Navy veteran Ken Davis with a $1,000 grant as part of the College Football Playoff Foundation's Big Day for Teachers, dedicated to supporting and celebrating teachers and saying thank you to amazing educators dedicated to helping kids learn.
"Participating in the Extra Yard for Teachers program is just one of the ways that the Military Bowl and its partners give back to the community," Military Bowl Foundation President & Executive Director Steve Beck said. "Ken Davis obviously understands the importance of helping others, as can be seen in his service to the country and his dedication to teaching our youths. We thank Wegmans for sharing our commitment to supporting our community."
Davis, a teacher for 10 years, served in the Navy as a religious program specialist from 1987 to 1989. He received a medical discharge after falling 20 feet while hanging a sign welcoming service members home from deployment and sustaining a broken pelvis, fractured vertebrae and other injuries.
Following his service, Davis worked as a pastor, focusing on children with special needs, which led him to working in education. He now teaches students with severe and multiple disabilities at Chris Yung Elementary School in Bristow, near Manassas.
"Wow, this is awesome," Davis said, explaining that he plans to use the grant to purchase items including a swing that students in wheelchairs can use. "I'm trying to give back to my community. All of my children cannot talk, some cannot walk. They all learn very differently than most you and I do. We teach them practical skills that they are going to use every day."
The Military Bowl Foundation will honor more teachers through the Extra Yard for Teachers program later this fall. Nominations and submissions for the grants can be made via the Military Bowl website through September 30. Selected teachers will be honored at the Military Bowl game on Wednesday, December 27 at Navy-Marine Corps Memorial Stadium.
Last year, the Military Bowl Foundation and College Football Playoff Foundation provided grants to 11 local teachers in recognition of their dedication to students. These teachers represented seven different school districts from throughout Mid-Atlantic Region, ranging from Baltimore County in Maryland to Stafford and Fauquier counties in Virginia.
"On behalf of Wegmans and our thousands of employees in the National Capitol Region, we are thrilled to partner with the Military Bowl and recognize Ken Davis," said Chris Holland, community engagement & communications manager at Wegmans. "We look forward to recognizing more deserving teachers later this fall and continuing to go the extra yard for some of the many great educators shaping the minds of the next generation of leaders."
The College Football Playoff Foundation is the community engagement arm of the College Football Playoff and works in partnership with institutions of higher education, sports organizations, corporations and nonprofits to support educators and improve U.S. student outcomes. Extra Yard for Teachers, the College Football Playoff Foundation's primary initiative, seeks to elevate the teaching profession by inspiring and empowering teachers.
Tickets for the 2023 Military Bowl go on sale Monday, September 25. Proceeds from the Bowl benefit the USO and Patriot Point, the Military Bowl Foundation's retreat for wounded, ill and injured service members, their families and caregivers.