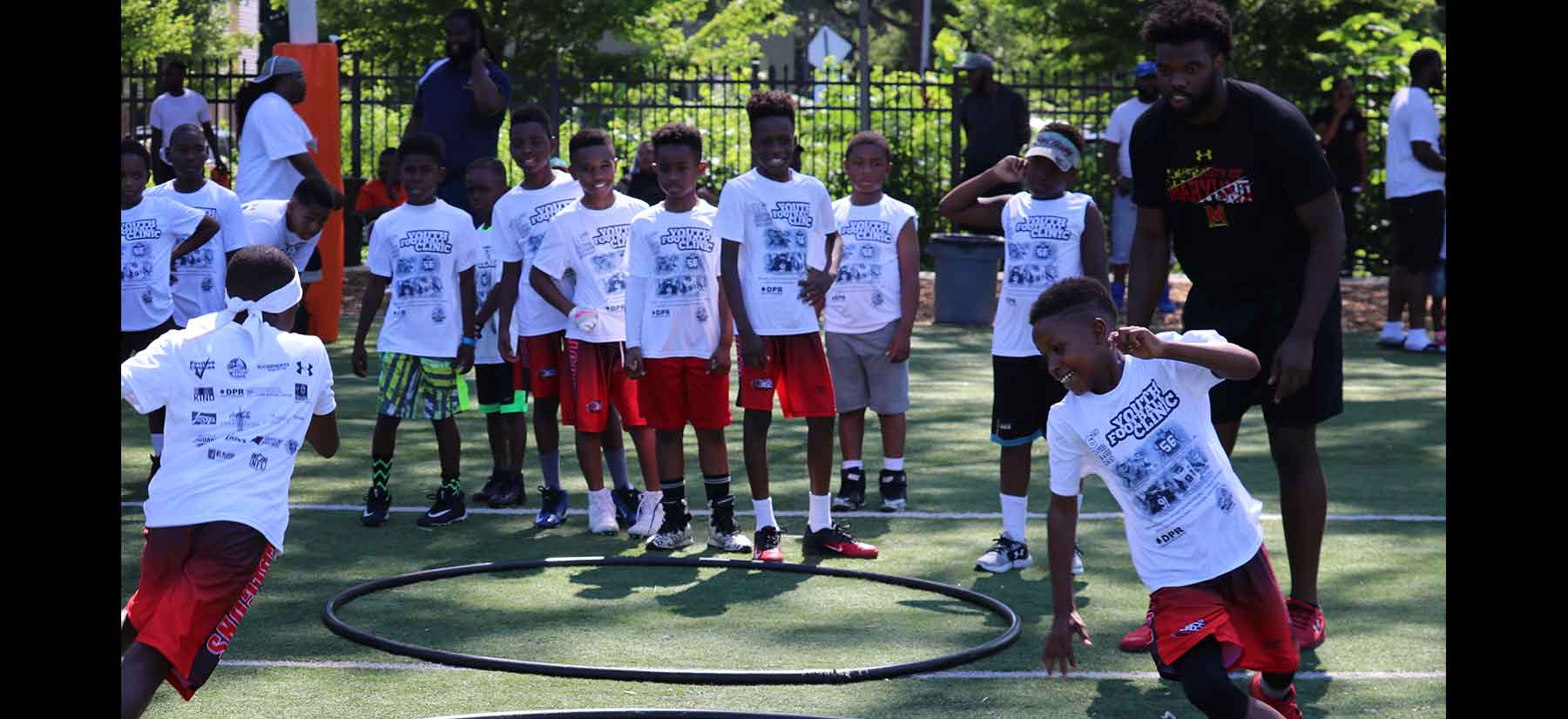 Military Bowl presented by Northrop Grumman and Events DC teamed up with Positive Choices Inc. to hold annual free Youth Football Clinic
WASHINGTON, D.C. – The field teemed with youngsters dreaming of making the big play as more than 300 children enjoyed a sun-drenched day as the Military Bowl presented by Northrop Grumman and Events DC teamed up with Positive Choices Inc. to hold their annual free Youth Football Clinic this past Saturday at Deanwood Recreation Center in Northeast.
"This terrific clinic is yet one more way in which the Military Bowl provides opportunities for members of the National Capital Region community," said Military Bowl Foundation President & Executive Director Steve Beck, who greeted many of the participants on Saturday morning and helped them find the right size t-shirt given to each. "One component of our mission is to find ways to help those in our region and this free clinic, which includes so many role models for our youths, is a great way to do this."
Several NFL players volunteered their time to participate in the clinic, including a lunchtime discussion in front of bleachers in the rec center gym that were filled to capacity. Among those appearing were defensive linemen Eddie Goldman and Cavon Walker and linebacker Josh Woods of the Chicago Bears; linebacker Jermaine Carter of the Carolina Panthers; linebacker Ryan Anderson of the Washington Redskins; and Jacksonville Jaguars defensive end Yannick Ngakoue, who previously was honored by the Military Bowl Foundation as the DC Touchdown Club's DC High School Player of the Year in 2013.  Several University of Maryland and former Friendship Collegiate Academy football players volunteered as instructors.
After a dynamic warmup, the participants divided into groups spread across the field to take part in drills working on their footwork, techniques and agility, while taking frequent water breaks. Following a complimentary lunch and a discussion with the players hosted by Angie Ange of WKYS-FM, the clinic resumed in the afternoon with more drills and games.
View photos from the event on the Military Bowl Foundation Facebook page!