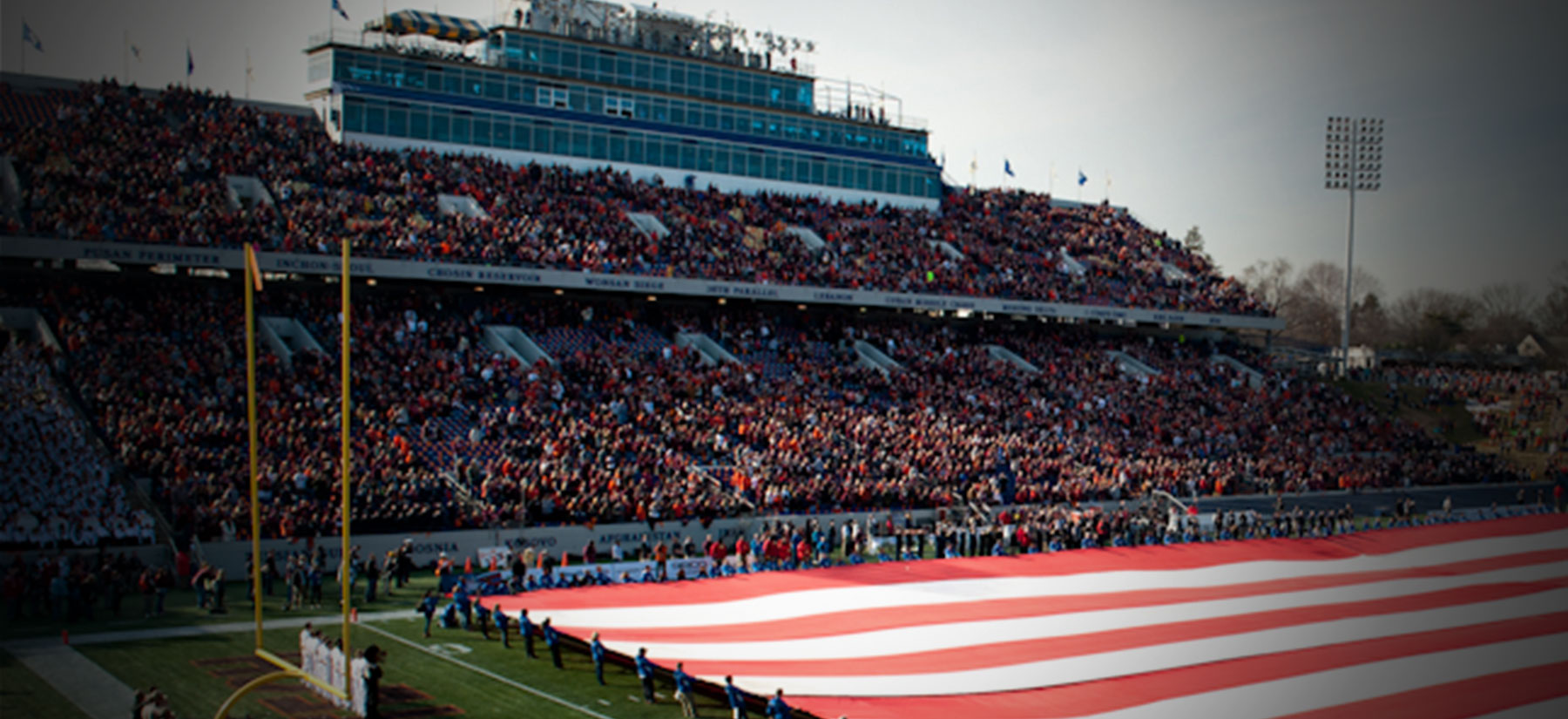 MILITARY BOWL PRESENTED BY NORTHROP GRUMMAN LAUNCHES FAN EXPERIENCE APP
WASHINGTON, D.C. – Fans of the 2016 Military Bowl presented by Northrop Grumman, benefiting the USO, have a new way to make plans and maximize their bowl game experience. The new Military Bowl app is available online for free download via the App Store and Google Play.
The Military Bowl app will have event schedules, live game stats, team and player information, parking information, stadium and event maps, exclusive promotions and more. The Bowl partnered with From Now On and its dynamic FanX platform to provide this fan engagement solution.
"We are committed to providing the best experience for our fans and this app is the latest way we are able to connect with them," Military Bowl President & Executive Director Steve Beck said. "We look forward to providing this service and are proud to work with From Now On to create this product."
"From Now On is thrilled to be working with the Military Bowl as they look for unique ways to enhance the bowl experience for fans" said Sue Thaden, President & CEO of From Now On. "They've been a great partner to work with and we look forward to helping them provide value for fans and sponsors alike, both this season and beyond."
Regular tickets start at $25 and are on sale now at militarybowl.org or by calling 888-841-2787. For information on suites and hospitality packages, please contact Director of Marketing & Ticketing Ryan Bartholomew at rbartholomew@militarybowl.org.
This year's Military Bowl matches No. 23 Temple and Wake Forest. Kickoff is set for 3:30 p.m. ET on Tuesday, Dec. 27 at Navy-Marine Corps Memorial Stadium. The game will be televised on ESPN.
For the latest updates please visit militarybowl.org, follow on Twitter and Instagram @MilitaryBowl or like the Military Bowl presented by Northrop Grumman on Facebook.
###

About the Military Bowl presented by Northrop Grumman
The Military Bowl presented by Northrop Grumman kicks off for the ninth time on Dec. 27 at 3:30 p.m. ET at Navy-Marine Corps Memorial Stadium, featuring a matchup between representatives from the Atlantic Coast Conference and the American Athletic Conference. Organized by the DC Bowl Committee, the Military Bowl serves as a premier regional event benefiting the USO and other organizations supporting members of the Armed Forces and their families. Since its inception in 2008, the Bowl has donated more than $600,000 to the USO and provided more than 30,000 complimentary tickets for troops and their families. For more information, please visit militarybowl.org.
About the USO
The USO strengthens America's military service members by keeping them connected to family, home and country, throughout their service to the nation. At hundreds of locations worldwide, we are united in our commitment to connect our service members and their families through countless acts of caring, comfort, and support. The USO is a private, non-profit organization, not a government agency. Our programs, services and entertainment tours are made possible by the American people, support of our corporate partners and the dedication of our volunteers and staff.
In addition to individual donors and corporate sponsors, the USO is supported by President's Circle Partners: AT&T, the BNSF Railway Foundation, Clark Construction Group, LLC, The Coca-Cola Company, FedEx, Jeep, Johnson & Johnson, Kroger, NFL, Southern New Hampshire University and Four-Star Partners: Advisors Excel, BIC, ConAgra Foods, GEICO, Harris Teeter, Lockheed Martin, Microsoft, Starbucks, TKS, USAA and the Wawa Foundation. We are also supported through the United Way and Combined Federal Campaign (CFC-11381). To join us in this important mission, and to learn more about the USO, please visit uso.org.
About From Now On
From Now On is about committing to a journey, to grow and make every experience count for our partners and their constituents. It's preaching better communication and community involvement through mobile technology, highlighted by our flagship platform for fan engagement, fanx. We built fanx to help our partners deliver the thrill and culture of the entire game-day environment, giving them effortless control of exciting dynamic content that drives ROI and deepens brand loyalty. To learn more, please visit us at www.from-now-on.com.