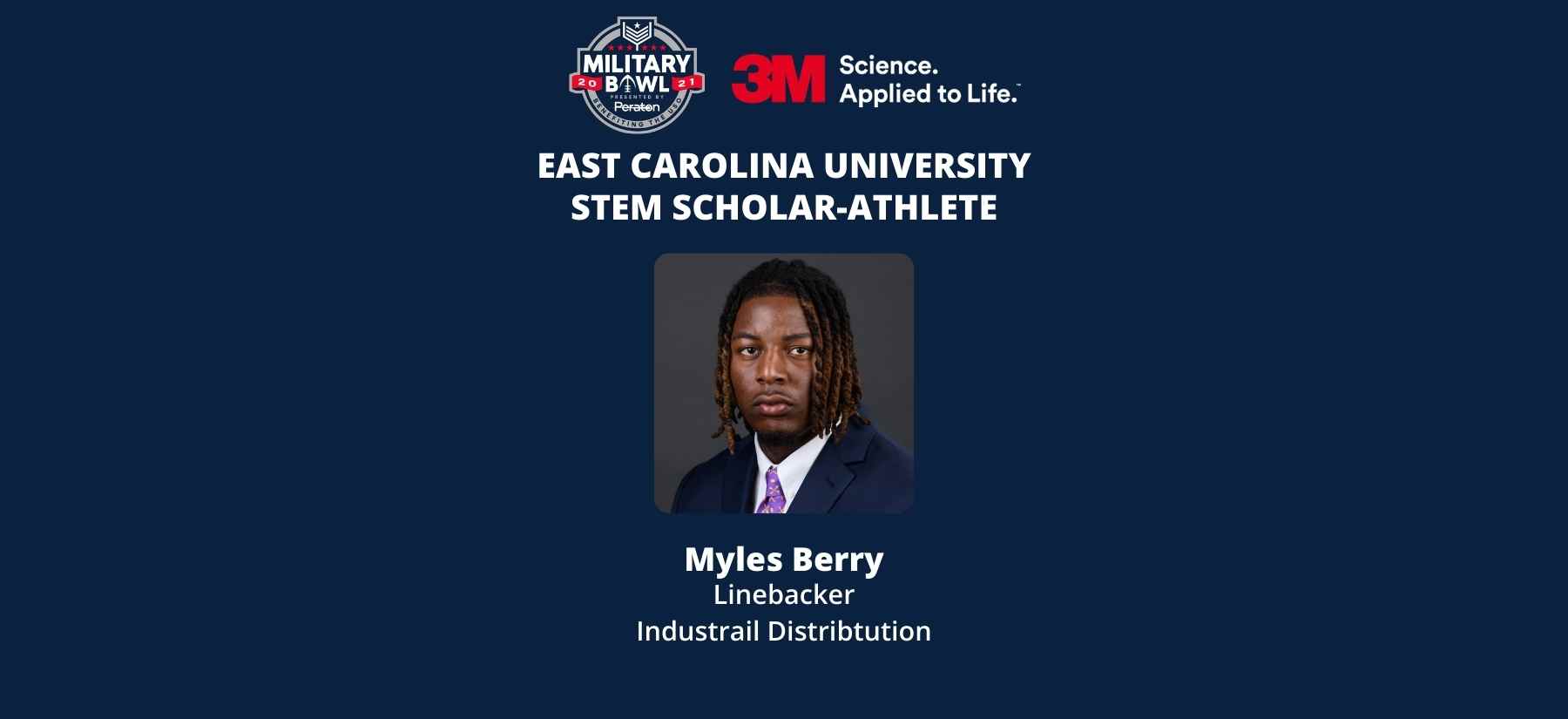 Myles Berry, East Carolina University
East Carolina University linebacker Myles Berry, a junior majoring in industrial distribution and logistics, has been named a Military Bowl 3M STEM Scholar-Athlete.
Berry, who is from Greensboro, North Carolina, is one of the top defensive players for the Pirates, who are eligible to play in a postseason bowl game for the first time since 2015. He has a 2.9 grade-point average and has been named to the ECU honor roll.
"Myles assisted in the development of a technology-rich service-learning lab for the Industrial Distribution and Logistics degree program at East Carolina University," said Natalie Aman, a teaching instructor for industrial distribution and logistics in ECU's College of Engineering and Technology. "This experiential lab is a student-run operation that serves as a food bank to support the university's efforts to reduce food insecurity across their campus of more than 28,000 students. His contributions to the lab continue to help reduce food insecurity among students at East Carolina University."
The Military Bowl 3M STEM Scholar-Athlete Program honors one football player at each university that is a member of the ACC and the American Athletic Conference – the two conferences that are represented in the Military Bowl college football game. These players are studying STEM (science, technology, engineering, math) subjects and/or aspire to STEM careers.
"What an incredible collection of student-athletes, who demonstrate their leadership on the field and in the classroom while tackling challenging subjects that prepare them for the future," Military Bowl President & Executive Director Steve Beck said. "We are thrilled to honor these student-athletes for their dedication and success."
For the two teams that participate in the 2021 Military Bowl, 3M will make a donation in the name of each school's Military Bowl 3M STEM Scholar-Athlete Program representative to their school's general scholarship fund, designated to be used by a STEM major from an under-represented population.
"3M is excited to recognize these outstanding students pursuing degrees in STEM-related fields," said Skip Driessen, Director of 3M Government Markets. "We know how hard these scholar-athletes have worked on the field and in the classroom and look forward to their continued success."