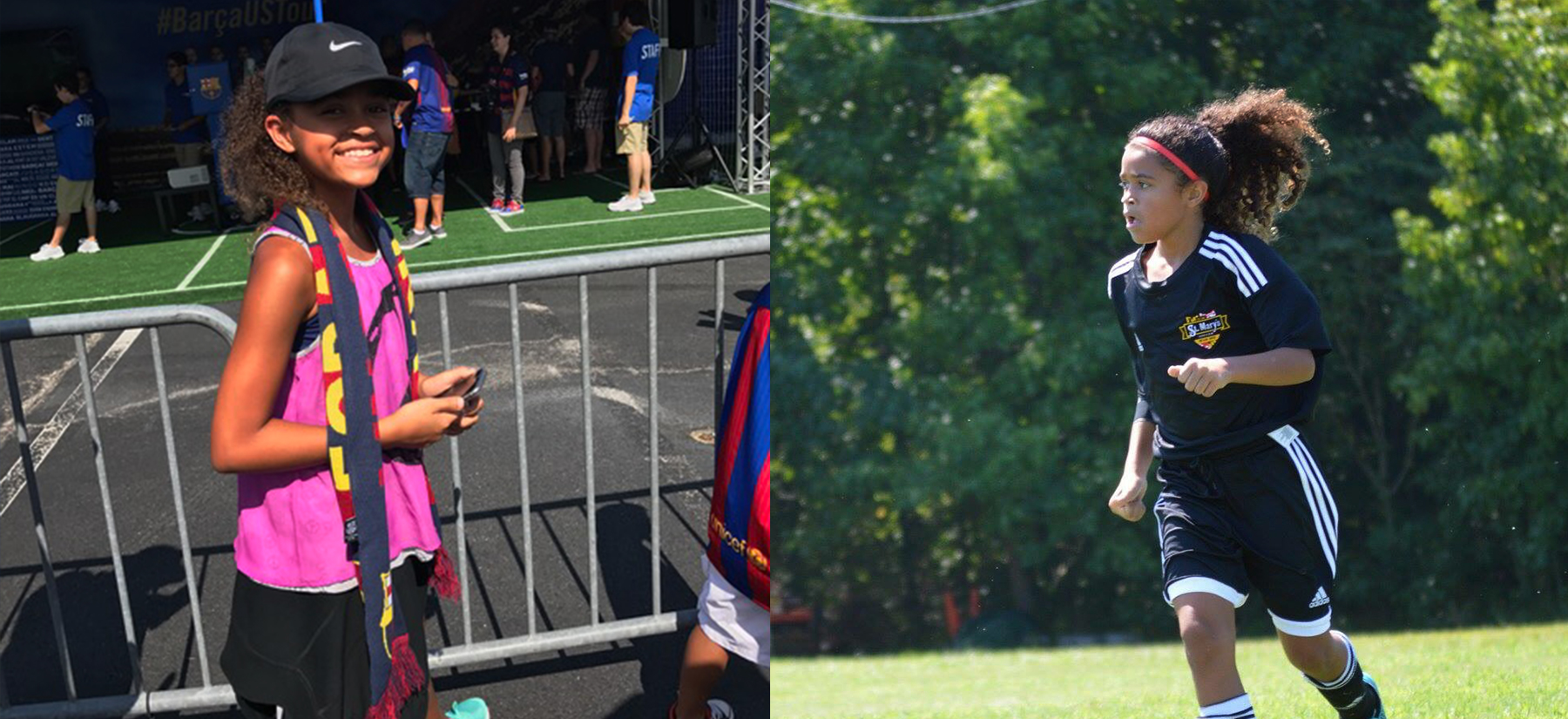 NAJILA CASTILLO-WRIGHT SELECTED AS 3M PLAY TO WIN FINALIST
Seventh-grader at Esperanza Middle School in Lexington Park has attended seven schools in four states while moving with her family

Najila "Lala" Castillo-Wright, a seventh-grader at Esperanza Middle School in Lexington Park, Md., who is the daughter of an 11-year U.S. Air Force veteran and stepdaughter of a 17-year U.S. Navy service member, has been selected as a finalist for the 3M Play to Win Award presented by the Military Bowl and 3M.
As a finalist, Lala will receive two complimentary tickets to attend this year's 10th anniversary Military Bowl presented by Northrop Grumman, benefiting the USO, which will be played on Thursday, Dec. 28 at Navy-Marine Corps Memorial Stadium. The 3M Play to Win Award winner, which will be announced in early December, will receive a prize package and the opportunity to be on the sidelines for the Military Bowl's opening kickoff.
Lala, who is 12 years old, has moved several times, attending six different elementary schools before enrolling at Esperanza. She lives in California, Md., with her mother, Ashley Williams, and stepfather, DeAnthony Williams, who is an Aviation Ordnanceman at Patuxent River Naval Air Station. Her father, James Wright Jr., recently returned to the United States after being stationed in Spain for six years before leaving the Air Force.
Lala is a role model for her two younger siblings. When DeAnthony was diagnosed with Stage 2 Hodgkin's Lymphoma in Dec. 2015, Lala took on an active role helping to take care of her siblings while DeAnthony underwent six months of chemotherapy, all while enrolling at a new school after her family moved from San Diego.
Lala enjoys playing soccer and is looking forward to trying out for the school volleyball team.
"Throughout the roughest chapter, Najila always remained positive and helped her two siblings and mother remain positive and kept a smile on our faces while beginning a new school with new faces and a new soccer team," Ashley Williams wrote in her nomination. "She is the true meaning of resilience and positivity that shows in her sportsmanship and team spirit."
Nominations are still being accepted at militarybowl.org/3M for the 3M Play to Win Award, which is open to student-athletes in fifth through eighth grades who have some or all of these qualities:
Passionate about football and displays team spirit
Has demonstrated the abilities to innovate, take initiative and overcome challenges and/or dealt with adversity
Has a parent who serves or has served in the military
Lives in the greater Washington-Baltimore metropolitan area