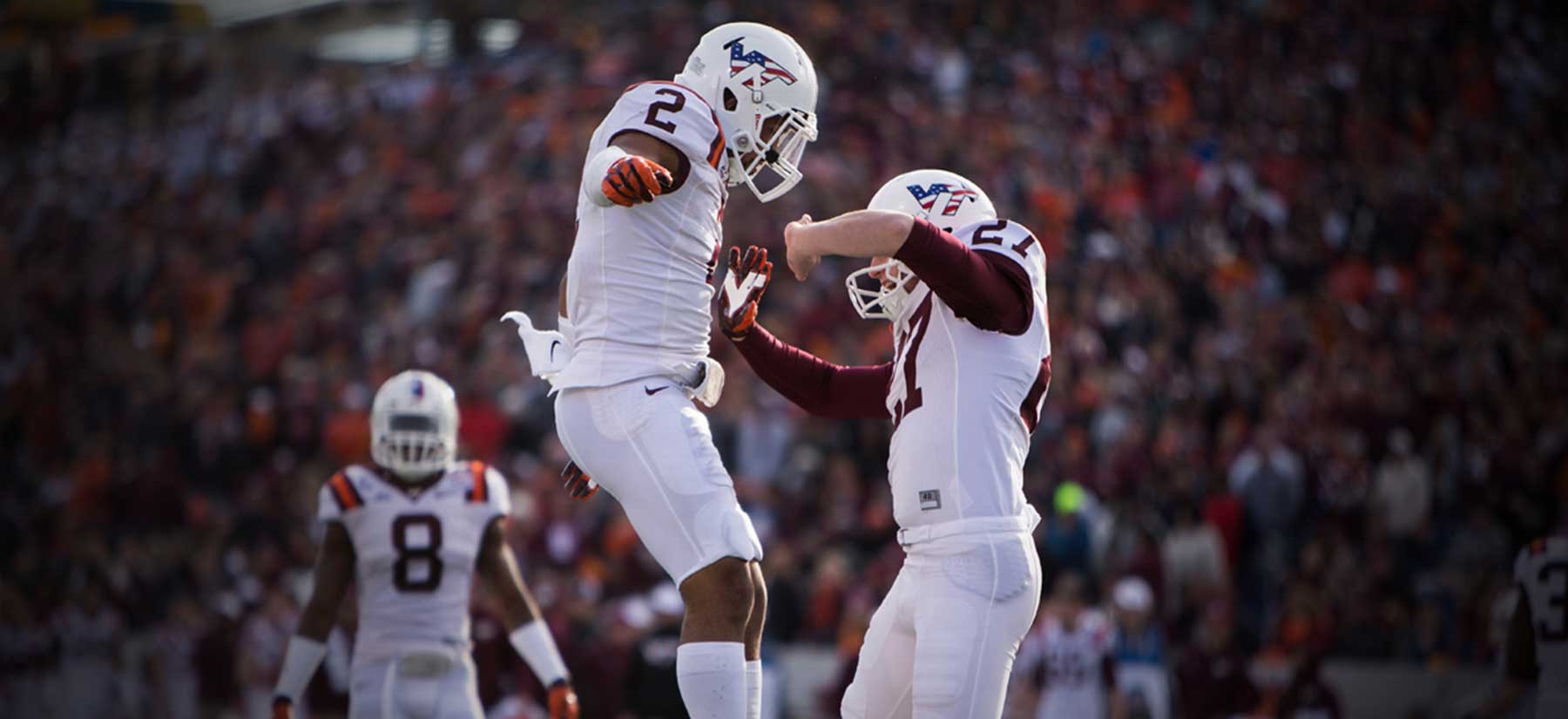 NFL teams draft 196 student-athletes who played in postseason FBA games
National Football League player personnel specialists spend countless yearly hours traveling to evaluate future pro prospects. They'd be just as well suited to visit the annual Football Bowl Association postseason schedule.
This year, Florida State QB Jameis Winston was the first player selected, drafted by the Tampa Bay Buccaneers with the opening choice of the first round. Prior to that, Winston led the Seminoles to the semifinals of the College Football Playoff. Winston was the first of 196 collegians to participate in a postseason college bowl game.
Of the 38 games [the National Championship not included since those players were previously tallied], 33 had at least one player on the two competing teams drafted.
The Rose Bowl Game presented by Northwest Mutual featured the most draftees, 16, Florida State's 11 and five for Oregon. The Rose Bowl this year served as one of two College Football Playoff semifinal games. In second place, the Charlotte, N.C.-based Belk Bowl had Louisville, with 10 total choices, and Georgia's five for a total of 15.
The Allstate Sugar Bowl sent 12 players to the draft, seven from Alabama and five from Ohio State. This was the other College Football Playoff semifinal.
The complete list, by bowl in descending order, follows:
NFL Draftees Participating in 2014-15 Postseason College Bowl Games:
| BOWL | TEAM | NUMBER | TEAM | NUMBER | TOTAL |
| --- | --- | --- | --- | --- | --- |
| Rose Bowl | FLORIDA STATE | 11 | OREGON | 5 | 16 |
| Rose Bowl | FLORIDA STATE | 11 | OREGON | 5 | 16 |
| Rose Bowl | FLORIDA STATE | 11 | OREGON | 5 | 16 |
| Rose Bowl | FLORIDA STATE | 11 | OREGON | 5 | 16 |
| Rose Bowl | FLORIDA STATE | 11 | OREGON | 5 | 16 |
| Rose Bowl | FLORIDA STATE | 11 | OREGON | 5 | 16 |
| Rose Bowl | FLORIDA STATE | 11 | OREGON | 5 | 16 |
| Rose Bowl | FLORIDA STATE | 11 | OREGON | 5 | 16 |
| Rose Bowl | FLORIDA STATE | 11 | OREGON | 5 | 16 |
| Rose Bowl | FLORIDA STATE | 11 | OREGON | 5 | 16 |
| Rose Bowl | FLORIDA STATE | 11 | OREGON | 5 | 16 |
| Rose Bowl | FLORIDA STATE | 11 | OREGON | 5 | 16 |
| Rose Bowl | FLORIDA STATE | 11 | OREGON | 5 | 16 |
| Rose Bowl | FLORIDA STATE | 11 | OREGON | 5 | 16 |
| Rose Bowl | FLORIDA STATE | 11 | OREGON | 5 | 16 |
| Rose Bowl | FLORIDA STATE | 11 | OREGON | 5 | 16 |
| Rose Bowl | FLORIDA STATE | 11 | OREGON | 5 | 16 |
| Rose Bowl | FLORIDA STATE | 11 | OREGON | 5 | 16 |
| Rose Bowl | FLORIDA STATE | 11 | OREGON | 5 | 16 |
| Rose Bowl | FLORIDA STATE | 11 | OREGON | 5 | 16 |
| Rose Bowl | FLORIDA STATE | 11 | OREGON | 5 | 16 |
| Rose Bowl | FLORIDA STATE | 11 | OREGON | 5 | 16 |
| Rose Bowl | FLORIDA STATE | 11 | OREGON | 5 | 16 |
| Rose Bowl | FLORIDA STATE | 11 | OREGON | 5 | 16 |
| Rose Bowl | FLORIDA STATE | 11 | OREGON | 5 | 16 |
| Rose Bowl | FLORIDA STATE | 11 | OREGON | 5 | 16 |
| Rose Bowl | FLORIDA STATE | 11 | OREGON | 5 | 16 |
| Rose Bowl | FLORIDA STATE | 11 | OREGON | 5 | 16 |
| Rose Bowl | FLORIDA STATE | 11 | OREGON | 5 | 16 |
| Rose Bowl | FLORIDA STATE | 11 | OREGON | 5 | 16 |
| Rose Bowl | FLORIDA STATE | 11 | OREGON | 5 | 16 |
| Rose Bowl | FLORIDA STATE | 11 | OREGON | 5 | 16 |
| Rose Bowl | FLORIDA STATE | 11 | OREGON | 5 | 16 |
| Rose Bowl | FLORIDA STATE | 11 | OREGON | 5 | 16 |
| Rose Bowl | FLORIDA STATE | 11 | OREGON | 5 | 16 |
| Rose Bowl | FLORIDA STATE | 11 | OREGON | 5 | 16 |
| Rose Bowl | FLORIDA STATE | 11 | OREGON | 5 | 16 |
Bowl                                                              Team[s]
Rose Bowl Game Presented By Northwest Mutual [16]                    Florida State — 11    Oregon – 5
Belk Bowl [15]                                           Louisville – 10           Georgia – 5
Allstate Sugar Bowl [12]                               Alabama – 7               Ohio State – 5
Independence Bowl [11]                             Miami – 7                   South Carolina – 4
Russell Athletic Bowl                         Oklahoma – 6                        Clemson – 5
Buffalo Wild Wings Citrus Bowl [10]          Missouri – 6               Minnesota – 4
AdvoCare V 100 Texas Bowl                                    Arkansas – 5              Texas – 5
Birmingham Bowl [9]                                   Florida – 8                  East Carolina – 1
Holiday Bowl                                                  USC – 6                       Nebraska – 3
Foster Farms Bowl [8]                                  Stanford – 6               Maryland — 2
Capital One Orange Bowl                             Mississippi St – 5       Georgia Tech — 3
Outback Bowl            [7]                                          Auburn – 5                Wisconsin – 2
Goodyear Cotton Bowl Classic [6]                Michigan State – 4    Baylor – 2
AutoZone Liberty Bowl                                 West Virginia – 4       Texas A&M – 2
Royal Purple Las Vegas Bowl                       Utah – 4                     Colorado State – 2
Hyundai Sun Bowl                                        Arizona State – 4       Duke – 2
New Era Pinstripe Bowl                               Boston College – 3     Penn State — 3
Cactus Bowl [5]                                             Washington – 4         Oklahoma State – 1
Franklin American Music City Bowl            LSU – 4                       Notre Dame – 1
Valero Alamo Bowl                                        UCLA – 3                    Kansas State – 2
Hawai'I Bowl  [4]                                           Fresno State – 3        Rice – 1
Miami Beach Bowl [3]                                   Memphis – 3              BYU – 0
TaxSlayer Bowl                                              Iowa – 3                     Tennessee – 0
Quick Lane Bowl [2]                                      Rutgers – 2                North Carolina – 0
St. Petersburg Bowl                                      UCF – 2                       NC State – 0
Military Bowl                                                 Virginia Tech – 2       Cincinnati – 0
Chick-fil-A Peach Bowl                                  Mississippi – 2           TCU – 0
SDCCU Poinsettia Bowl                                 Navy – 1                     San Diego State – 1
Fiesta Bowl [1]                                               Boise State – 1           Arizona — 0
Boca Raton Bowl                                            Marshall – 1               N. Illinois – 0
R+L Carriers New Orleans Bowl                  LA-Lafayette – 1        Nevada – 0
Popeyes Bahamas Bowl                                C. Michigan – 1          W. Kentucky – 0
Armed Forces Bowl                                       Pittsburgh – 1           Houston – 0
Gildan New Mexico Bowl [0]                        Utah State – 0                        UTEP – 0
Famous Idaho Potato Bowl                          Air Force – 0              W. Michigan – 0
GoDaddy Bowl                                               Toledo – 0                  Arkansas State – 0
Zaxby's Heart of Dallas Bowl                       Illinois – 0                  Louisiana Tech – 0
Raycom Media Camellia Bowl                      South Alabama – 0    Bowling Green – 0