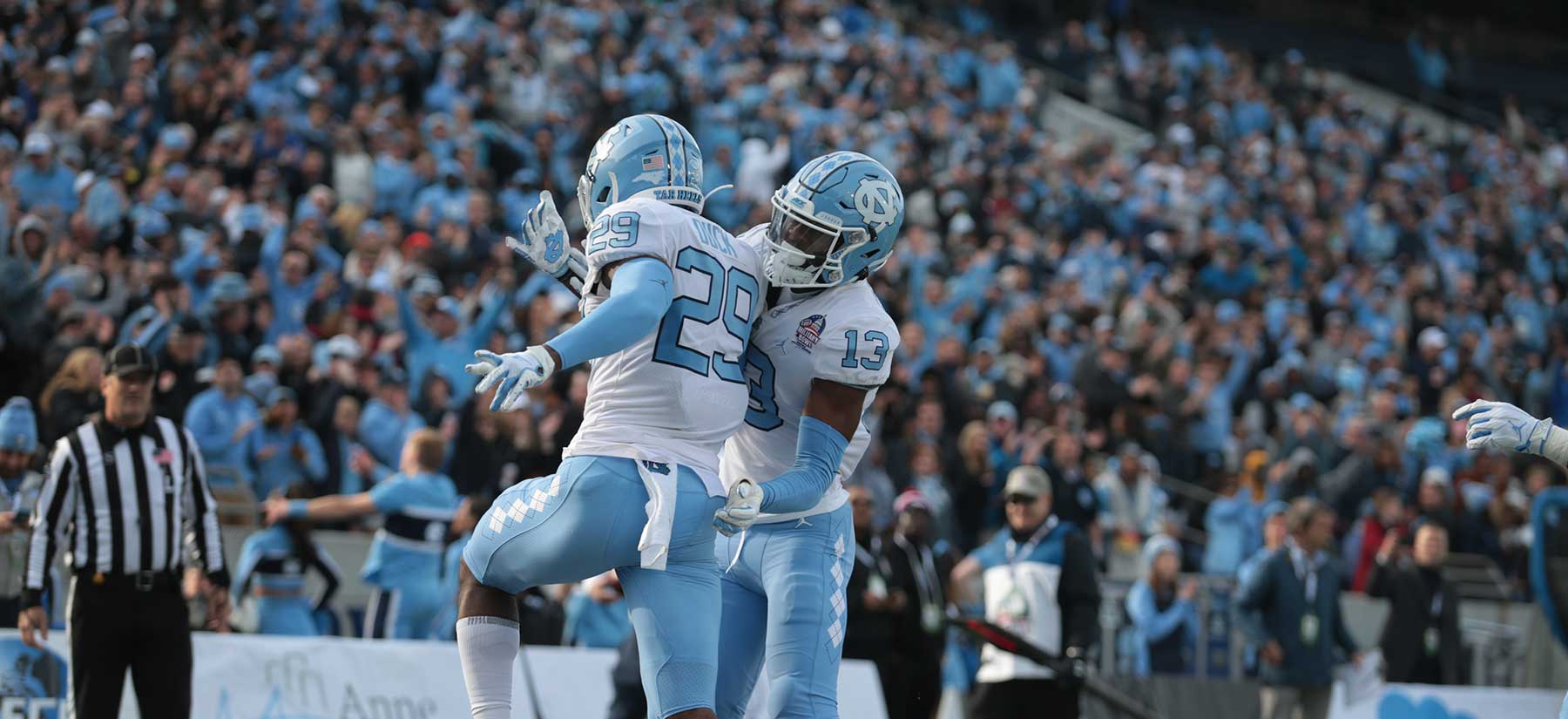 North Carolina Beats Temple in the 2019 Military Bowl!
ANNAPOLIS, Md.  — With a Hall of Fame Coach on the sidelines, it was a 19-year-old freshman who led North Carolina to the biggest bowl win in school history.
Quarterback Sam Howell passed for 294 yards and three touchdowns and caught a touchdown pass on a trick play as the Tar Heels routed Temple, 55-13, in the 12th Military Bowl presented by Northrop Grumman before a crowd of 24,242 at Navy-Marine Corps Memorial Stadium on Friday afternoon.
Howell completed 25 of 34 passes and ran for 53 yards on three carries as North Carolina earned its first bowl victory since 2013 and finished the season with a three-game winning streak.
"I want to thank the Military Bowl for a wonderful week," Brown said. My wife "Sally and I have been fortunate enough to be at a lot of bowl games and none of them were as much fun as this one."
The victory capped a fun-filled week for both teams that included a visit to the U.S. Capitol, tours of the National Mall and many monuments and community service that saw both teams participate in the USO Pack 4 Troops program making care packages for service members. North Carolina's Capitol visit was led by former Rep. Mike McIntyre and the Tar Heels also visited the National Museum of African American History and Culture. On Military Bowl Eve and on gameday, fans flooded Annapolis for a series of events, including the Military Bowl Parade featuring the world-famous Budweiser Clydesdales carrying Maryland Governor Larry Hogan and Miss America 2020 Camille Schrier.
"It was really a special week," Brown said. "And then to be honored to play in this stadium where it honors so many battles and to thank our military for what they are doing for us, especially during the holidays and when they can't be home, it was really special. And then we talked before the ballgame this was a great way for us to finish a season that we needed to have."
North Carolina started slowly before taking a 7-0 lead on Howell's 39-yard touchdown pass to Dyami Brown. Howell's second touchdown pass, a 16-yarder to Dazz Newsome, who made a spectacular juggling catch in the end zone, made it 17-6 with less than four minutes left in the first half.
After the Tar Heels got the ball back came the most important play of the game. As the half expired, Noah Ruggles' 41-yard field goal attempt was blocked and returned for a Temple touchdown. But the play was nullified by an offsides penalty on the Owls and Ruggles was successful on the second chance with a 36-yarder. North Carolina led 20-6 at halftime.
The Tar Heels exploded with three touchdowns in less than six minutes of the third quarter to put the game away. Antonio Williams scored on a one-yard run, Storm Duck returned an interception 20 yards for a score and Howell fooled the defense with a two-yard touchdown catch from Rontavius Green.
That spelled the end for Temple (8-5), which was making its fifth consecutive bowl appearance. Wide receiver Jadan Blue caught eight passes for 92 yards for the Owls, becoming the first player in Temple history to eclipse the 1,000-yard mark in a single season.
Howell added a 29-yard touchdown pass to Newsome in the fourth quarter, giving his 38 touchdown passes this season, the most by a true freshman in Football Bowl Subdivision history. His 3,641 yards passing are the most ever by an ACC true freshman.
"It was a great week and experience for our kids," Temple Coach Rod Carey said. "There is a lot of stuff to do in this city. As far as the game, it did not go like we wanted it to go in any way or point during the game. It is a hard one to swallow because I don't know if there is that big of a gap between those two teams, but there was today."