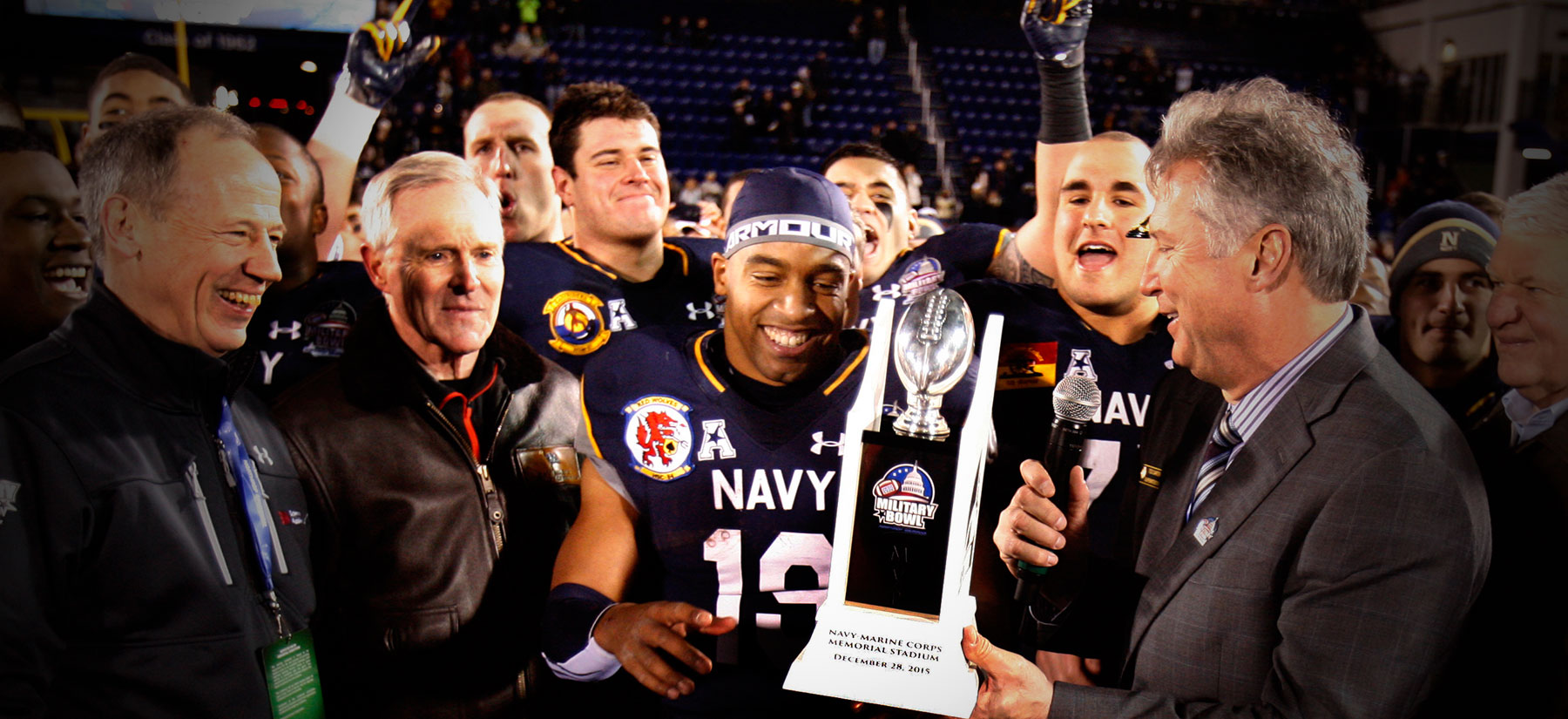 Reynolds passes for one touchdown, rushes for three more to set NCAA all-time touchdown record as Navy beats Pitt 44-28 to win the 2015 Military Bowl presented by Northrop Grumman
ANNAPOLIS, Md. – Pittsburgh started the 2015 Military Bowl presented by Northrop Grumman with a bang, but it was Navy's record-setting quarterback Keenan Reynolds that had the last laugh as the Midshipmen set a school record for most victories in one season.
Reynolds capped his tremendous career with one final spectacular game, passing for one touchdown, rushing for three more and setting the NCAA record for most touchdowns scored in a career to earn Most Valuable Player honors as the Midshipmen beat Pitt Panthers, 44-28, before a sellout crowd of 36,352 at Navy-Marine Corps Memorial Stadium on Monday.
"All good things come to an end," Reynolds said. "What a way to end it, on your home field."
Quadree Henderson started the game with a 100-yard kickoff return for a touchdown, but Navy scored the next 31 points. Reynolds led the charge with touchdown runs of 1 and 5 yards and an 11-yard touchdown pass to tight end Tyler Carmona for a 21-7 halftime lead.
The Midshipmen (11-2) padded their lead with a 26-yard touchdown run by Demond Brown and Austin Grebe's 35-yard field goal for a 31-7 lead.
Pitt pulled within 31-21 late in the third quarter on a pair of scores by the ACC Offensive and Defensive rookies of the year. Nate Peterman threw a 4-yard touchdown pass to Qadree Ollison and Jordan Whitehead returned a fumble 22 yards for a touchdown with 2 minutes 57 seconds left in the third quarter.
But Navy converted a pair of fourth downs on its ensuing drive, leading to Toneo Gulley's 15-yard touchdown run. Late in the game, the only thing yet to be settled was whether Reynolds would become the Football Bowl Subdivision's all-time touchdowns leader. He scored on a nine-yard run with 4:19 left to make it 44-28 and seal the game.
Reynolds finished 9 of 17 passing for 126 yards and rushed for 144 yards on 24 carries. He finished with 4,559 yards rushing, the most ever by a Division I quarterback. The individual records, he said, were not nearly as significant as his team's success. It was the most wins ever in one season in 135 years of Navy football.
"You play the game to win," Reynolds said. "So the record for wins is the one that means the most to me."
Navy's victory capped a sensational day in Maryland's capital city, beginning with the Military Bowl Parade from City Dock to the stadium and the Official Tailgate Party. Pregame festivities included the Team Fastrax parachute jump team, delivery of the game ball by Maryland Governor Larry Hogan and Speaker of the House of Delegates Michael Busch and the honoring of seven recipients of the Congressional Medal of Honor.