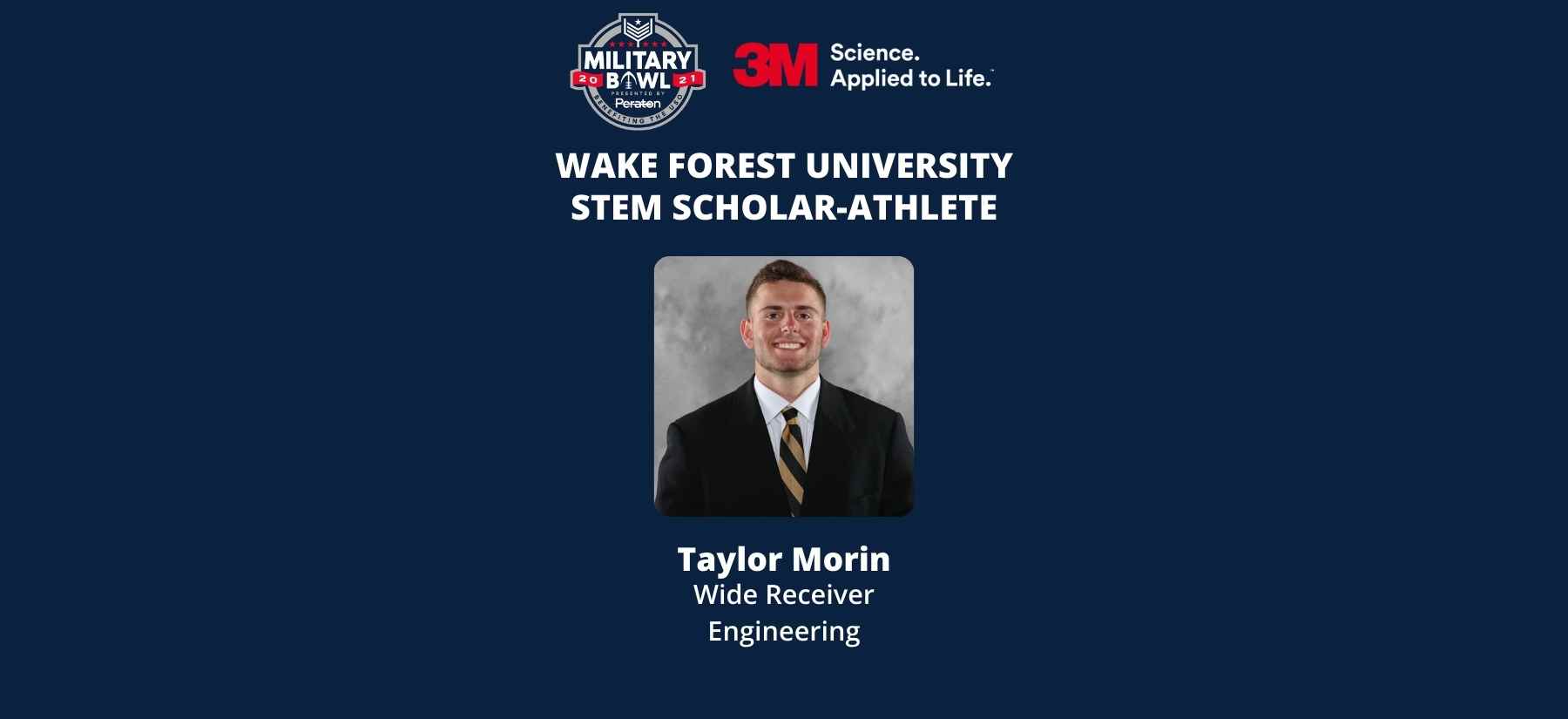 Taylor Morin, Wake Forest University
Wake Forest University wide receiver Taylor Morin, who is majoring in engineering with a double minor in entrepreneurship and mathematics, has been named a Military Bowl 3M STEM Scholar-Athlete.
One of the Demon Deacons' top players, Morin received several preseason All-ACC accolades entering this season. A redshirt freshman from Centreville, Virginia, he has a 3.949 grade-point average.
Among the STEM-related projects that Morin has worked on are:
The Cardboard Project, where he designed, prototyped and built a full-size cardboard couch for families in emergency situations, following the human-centered design process.
The Spine Immobilization Project, comparing the motion of patients with potential spinal injuries during different types of transfer between stretchers.
Sensing the Campus, operated light, humidity, temperature and wind sensors through Arduinos to better understand the conditions of Reynolds Gym's rooftop to determine its viability for a rooftop garden.
Stormwater Pollution Project, focused on the prevention of eutrophication for bodies of water around the world.
This semester, Morin is participating in an electrical engineering project that is designing light up shoes for a faculty professor.
"As a football fan myself, a two-time professor to Taylor and a son-in-law to a lifelong Wake Forest football fan, Taylor is a common name tossed around my house," said Nicholas Lutzweiler, a Wake Forest visiting assistant professor of practice, department of engineering. "The expresson 'third and Morin' comes to mind, as Taylor is a trusted target to catch anything thrown his way, especially on third down.
"So, after teaching him in two advanced classes, I have had the privilege to see his drive and passion to succeed. It extends into the engineering field, where the stakes aren't a much-needed first down, but the welfare and safety of the public."
The Military Bowl 3M STEM Scholar-Athlete Program honors one football player at each university that is a member of the ACC and the American Athletic Conference – the two conferences that are represented in the Military Bowl college football game. These players are studying STEM (science, technology, engineering, math) subjects and/or aspire to STEM careers.
"What an incredible collection of student-athletes, who demonstrate their leadership on the field and in the classroom while tackling challenging subjects that prepare them for the future," Military Bowl President & Executive Director Steve Beck said. "We are thrilled to honor these student-athletes for their dedication and success."
For the two teams that participate in the 2021 Military Bowl, 3M will make a donation in the name of each school's Military Bowl 3M STEM Scholar-Athlete Program representative to their school's general scholarship fund, designated to be used by a STEM major from an under-represented population.
"3M is excited to recognize these outstanding students pursuing degrees in STEM-related fields," said Skip Driessen, Director of 3M Government Markets. "We know how hard these scholar-athletes have worked on the field and in the classroom and look forward to their continued success."