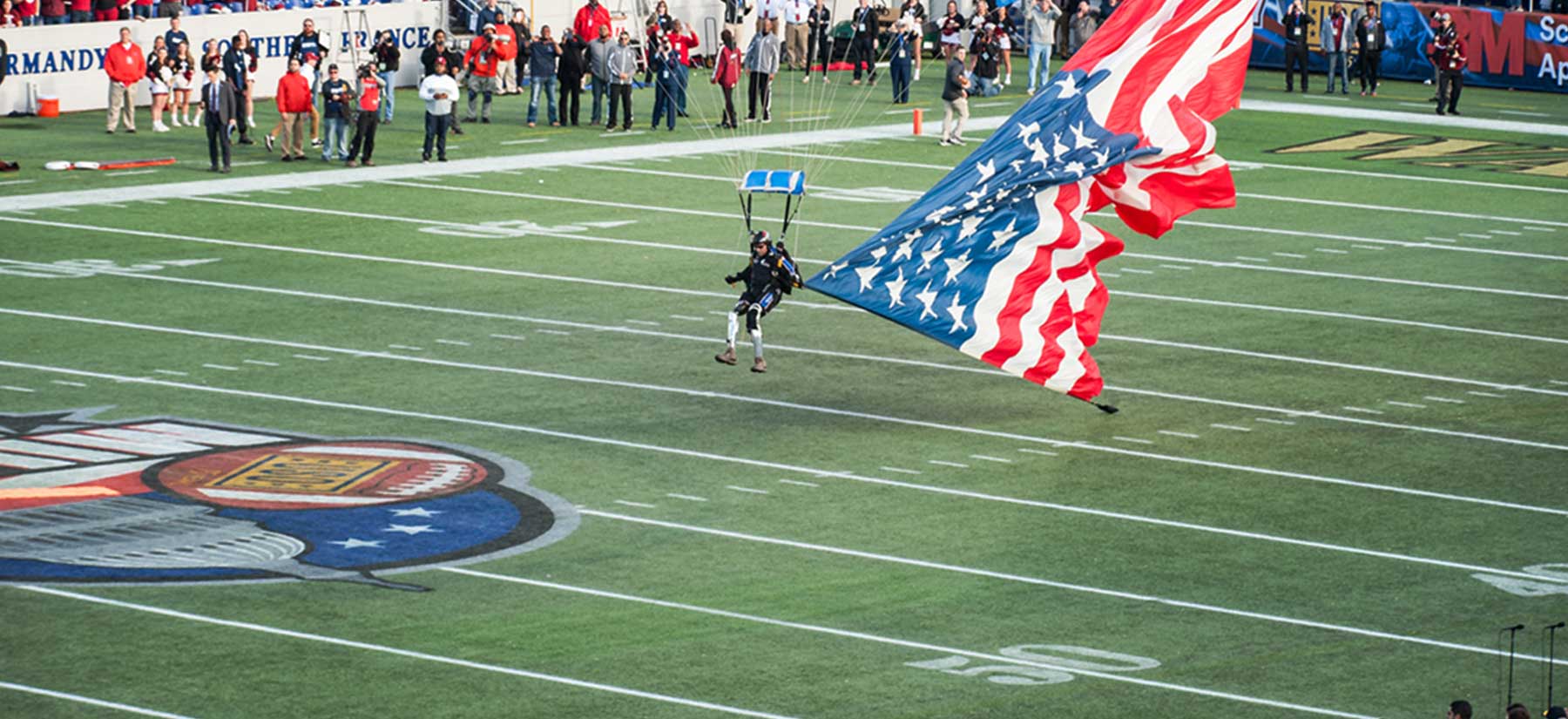 TEAM FASTRAX JUMP WILL HONOR FALLEN NAVY HERO
The Team Fastrax parachute jump team consists mostly of military veterans from the Rangers, Special Forces and Airborne units. They have combined to make more than 300,000 skydives and regularly wow crowds with their breathtaking jumps trailed by 1,800-square foot flags.
Team Fastrax dedicates each jump to a fallen hero and this year's performance at the Military Bowl presented by Peraton will honor a star student-athlete who became one of the nation's most valiant leaders.
Doug Zembiec was a two-time All-American wrestler at the U.S. Naval Academy before graduating in 1995 and embarking on a decorated military career. Zembiec earned the nickname the "Lion of Fallujah" for his bravery while serving in Iraq and he later received a highly-coveted assignment in the Ground Branch of the CIA's Special Activities Division.
Zembiec was killed in action in Iraq on May 11, 2007. He was posthumously awarded the Silver Star and Purple Heart for his heroic actions that day and was recognized in many other ways, including having the helipad at Camp Victory at Baghdad International Airport dedicated in his name.
Several years later, Pasha Palanker met Zembiec's widow, Pam, at their neighborhood pool in Darnestown, Maryland. Fallyn Zembiec, who was a toddler when her father died, was coaching the summer swim team and Palanker's son was a swimmer.
"At the same time, a really good friend of mine, Jon Foreman, posted a picture of [Zembiec's] tombstone in Arlington," Palanker said. "I asked him about it, and it turns out he was Doug's RECON Marine teammate, who took Doug to the airport for his last deployment."
In 2018, Palanker attended the Military Bowl as a guest of Warrior Events. He saw Team Fastrax make its annual performance at the Bowl as part of the pregame pageantry. Palanker immediately knew he wanted to be a part of the team. A two-time Purple Heart recipient and former free fall instructor in the U.S. Army teaching special operations, Palanker tried out and was invited to join Team Fastrax.
Palanker and Foreman will be jumping into the Military Bowl for the first time this year. Pasha will carry the Purple Heart flag and Jon will carry the Gold Star flag in Doug's memory. They will be joined by jumpers carrying the American flag and an armed services medley flag. And, at Palanker's suggestion, this jump will honor Zembiec, whose family will be in attendance, including his parents, whom Foreman met when Team Fastrax performed near their home in New Mexico.
"It will be incredible to honor Doug Zembiec with this jump," Palanker said.