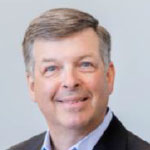 Rory J. Yanchek
President & CEO Lackawanna Partners, LLC
Founder and President of Lackawanna Partners, LLC., a management consultancy.
Accomplished global business executive with a track record of successful organizational and P&L leadership.
Recognized for building and integrating world-class teams, accelerating Revenue/ EBITDA growth, driving change and business process improvement while strengthening customer engagement.
Professional Experience
Previously, President, MTI Motion – A Steel Partners Company (NYSE: SPLP), responsible for overall company strategic and operational performance.
3M (NYSE: MMM), As Vice President and General Manager of 3M's Government business, he led 3M's efforts to build sustainable growth in U.S. government markets.
Held several global business unit leadership roles with 3M, serving as Vice President and General Manager of 3M's Aerospace and Commercial Transportation Division and 3M's Defense Markets Division.
Earlier in his career, he served in various leadership roles in business management, marketing, and business development with Allergan, Schein Pharmaceutical and Racal Health & Safety.
Rory earned a bachelor's degree from East Stroudsburg University in Pennsylvania and a master's degree in business administration from the University of St. Thomas in Minnesota. He is a proud veteran of the United States Army having served as an infantry officer.