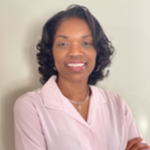 Steffanie B. Easter
Senior Vice President and Chief Sustainability Officer, CAES
Steffanie Easter is responsible for the overall sustainability efforts of CAES to drive best practices across key elements of environmental, social and governance standards, and support related strategic engagements with industry peers and customers.
Previously she served as the Vice President, Deputy Army Business Unit and Vice President, Strategy and Planning at SAIC where she led the strategic growth and development within the defense and civilian sector.
Steffanie joined private industry in 2020. Before joining she served as the Director, Navy Staff for the U.S. Navy becoming the first civilian to hold the position. In this role she served as the senior civilian and coordinated enterprise level efforts across the Navy staff, ensuring alignment of more than 400 Flag Officers and Senior Executives in direct support of the Chief of Naval Operations.
Throughout her career, she served in several high impact positions in the Department of Defense including Acting Assistant Secretary of the Army for Acquisition, Logistics and Technology; F-35 Joint Program Office Executive Director; Assistant Deputy Chief of Naval Operations for Manpower, Personnel, Training and Education; Assistant Deputy Commander for Acquisition at Naval Air Systems Command; and Deputy Program Executive Officer for Tactical Aircraft Programs.
In 2020 Easter joined the Board of Directors for Fincantieri Marinette Marine. She also serves on the Board of Directors for the Military Bowl Foundation, a nonprofit that supports our nation's current and former service members and she serves as a member of the NC State Engineering Foundation Board of Directors.
Easter earned her Bachelor's degree in Chemical Engineering from North Carolina State University, and her Masters of Engineering degree from The Catholic University of America. She received the 2019 Distinguished Alumni Award from both Universities.