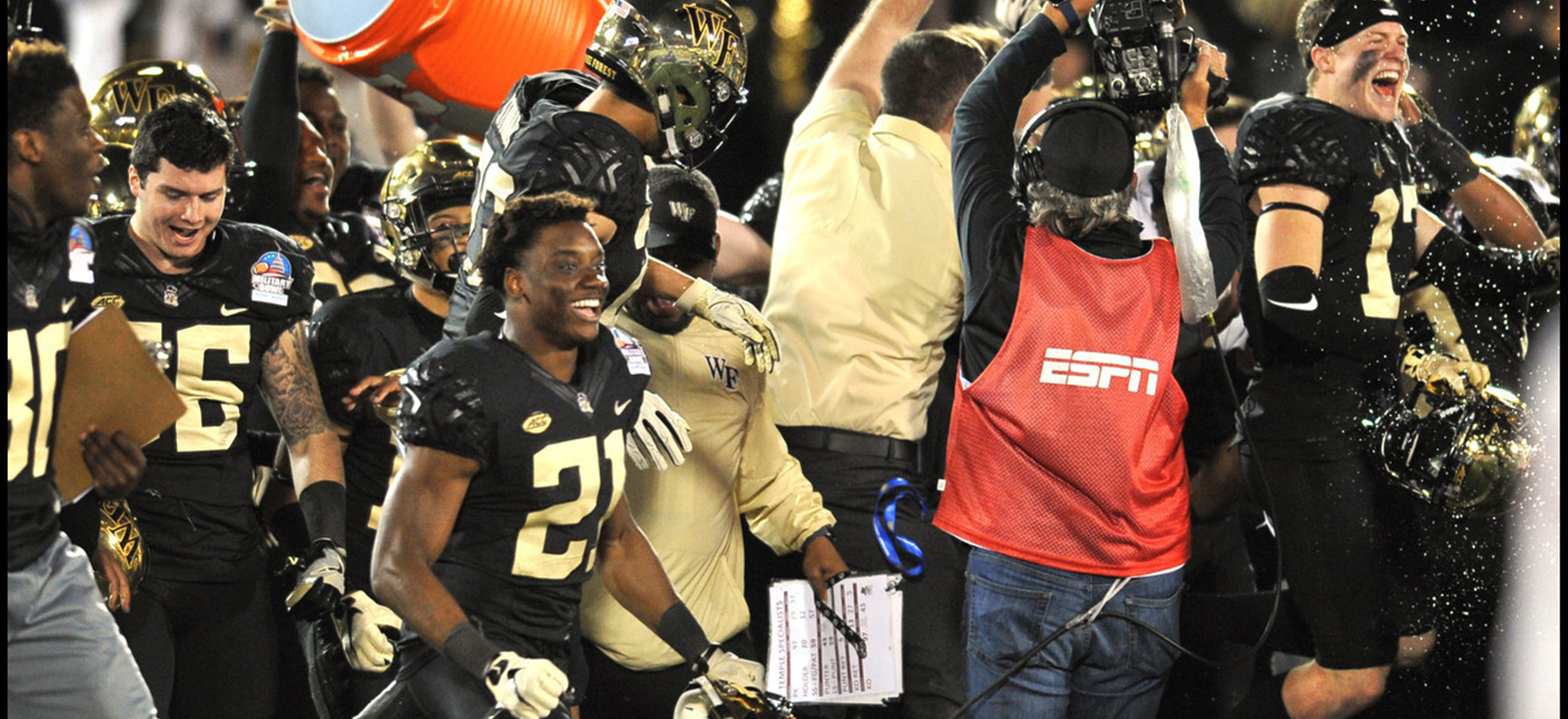 WAKE FOREST WINS THE 2016 MILITARY BOWL PRESENTED BY NORTHROP GRUMMAN
Wake Forest built a large first-half lead behind the play of quarterback John Wolford, then relied on its defense to hang on for a 34-26 victory over 23rd-ranked and heavily-favored Temple, 34-26, in the Military Bowl presented by Northrop Grumman, benefiting the USO, before a crowd of 26,656 on a picture-perfect day at Navy-Marine Corps Memorial Stadium.
It was the Demon Deacons' first bowl win since the inaugural EagleBank Bowl in 2008, the predecessor to the Military Bowl – and also secured the team's first winning record since that year.
"Everybody that helps run the Military Bowl, appreciate ya," Wake Forest Coach Dave Clawson said. "This is a first-class event. Everything from the accommodations, the meals, the tours — we've had an absolutely magical week here. And this was a great way to end it."
What a sight it was as Clawson was doused with a large bucket of ice water and Wake Forest's fans rushed the field in celebration.
Wolford completed 10 of 19 passes for 183 yards and two touchdowns, mostly in the first half, as the Demon Deacons scored 31 consecutive points after surrendering an early touchdown.
But Wolford left the game with a strained neck after a violent tackle early in the second half. The Wake Forest offense went stagnant and Temple rallied behind its standout quarterback Phillip Walker.
Walker completed 28 of 49 passes for a Military Bowl-record 396 yards and two touchdowns as the Owls (10-4) made a furious rally after halftime under interim coach Ed Foley. Aaron Boumerhi's fourth field goal, a 38-yarder, brought Temple within 31-26 with 3 minutes 39 seconds left.
Wake Forest (7-6) managed only a field goal after an 80-yard kickoff return, leaving its lead at 34-26 with 1:57 left.
But the Demon Deacons' defense stepped up and forced a turnover on downs, leading to a wild party on the field.
Afterward, Clawson thanked his players for their dedication and, in a postgame press conference, turned to linebacker Thomas Brown – the game's Most Valuable Player – and joked that the players probably would like a modestly-sized commemorative ring.
"Nah," Brown smiled. "I want a nice big one."
It was a surprising victory – especially considering that Temple took a 7-0 lead less than two minutes in following an interception and Walker's 48-yard touchdown pass to Adonis Jennings on the next play. The American Athletic Conference champions seemed in good shape.
Wolford, though, threw touchdowns on the next two possessions and by late in the second quarter Wake Forest led 31-7.
That proved to be just enough for the Demon Deacons to hold on, capping a sensational Bowl Week punctuated by a sunny day with temperatures soaring into the mid-60s. Thousands of fans turned out for the Military Bowl Parade led by the world-famous Budweiser Clydesdales. Following the Military Bowl Official Tailgate, the Pregame Pageantry included the Team Fastrax parachute jump and seven Medal of Honor recipients who were on the field for the pregame coin toss.