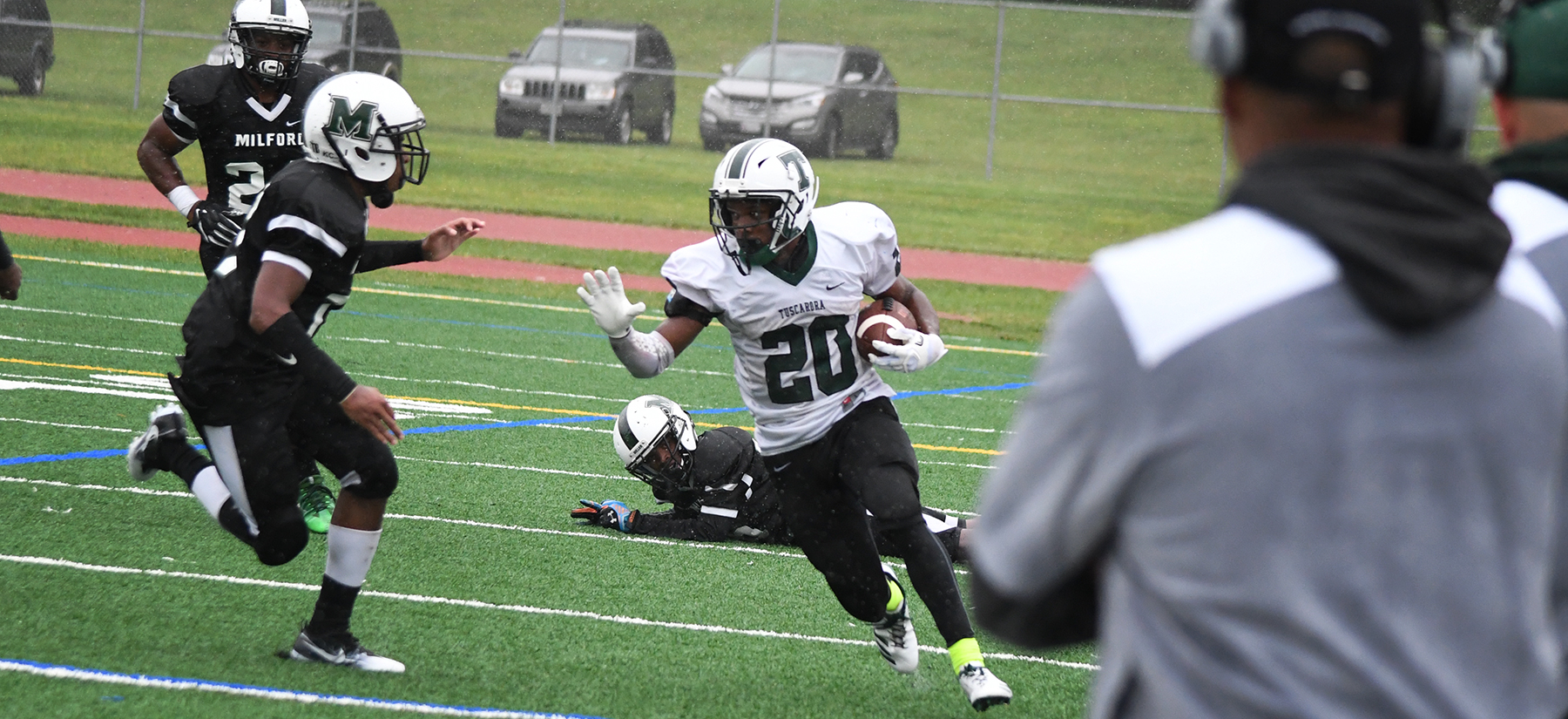 Week 1 DC Touchdown Club Player of the Week is Aris Hilliard, Tuscarora
As Tuscarora took the field for its season opener this past Saturday, Aris Hilliard was admittedly nervous. A 5-foot-8, 165-pound junior, he was being given tremendous responsibility for a player who had never suited up for a varsity game.
In recent years, the Titans had leaned heavily on all-purpose offensive standout Rodney Dorset. But with Dorsey now a freshman in the mix at Towson University, Tuscarora Coach Vince Ahearn was looking for Hilliard – whom he jokingly refers to as "Rodney 2.0" because of his on-field ability and the way he comports himself off the field – to take a leading role.
Still, as Tuscarora trotted out to return the opening kickoff, Hilliard had butterflies.
"I should have run under the ball, but I was kind of hoping it wasn't going to get kicked to me," Hilliard said.
As the ball bounced near the 20-yard line and scooted past Hilliard, it seemed like everything was happening in slow motion.
How could this happen on his first play on the varsity?
But by the time Hilliard retreated to pick up the ball and started up the field, his outlook had changed.
"I was glad I had the opportunity," Hilliard said. "It was a wide-open hole."
Hilliard did not stop until he reached the end zone. Now in his comfort zone, Hilliard went on to enjoy a sensational debut. In addition to his 95-yard kickoff return, he rushed 24 times for 301 yards and three touchdowns, leading Tuscarora to a 38-14 victory at Milford Mill. It was a big victory for the Titans, as Milford Mill has made the playoffs in four of the past five seasons. For his efforts, Hilliard was named the Military Bowl DC Touchdown Club presented by Capital Bank High School Football Player of the Week, powered by Under Armour.
"You don't know necessarily what to expect, you don't even know your team this early," Ahearn said. "But yes, we were expecting him to do well this year. He's got great grades, too. He's the whole package."
While Dorsey earned Frederick News-Post Offensive Player of the Year honors last season, Hilliard is doing his best to make sure Tuscarora's offense keeps operating at a high level. He usually lines up at running back and also works some as a slot receiver, though the inclement weather dictated that the Titans kept the ball on the ground Saturday. Hilliard, who was one of the fastest players at the University of Maryland's football camp this past summer, did most of the damage.
"I did not expect to get a kickoff return touchdown, I did not expect to get four touchdowns," Hilliard said, noting that he had played plenty of cornerback on defense and was not featured in the team's preseason scrimmages. "I didn't know what to expect from my first varsity game. It came out of nowhere."
Other players considered for the Week 1 Player of the Week were:
ANNE ARUNDEL
Severna Park WR Josh Coffman caught four passes for 126 yards and two touchdowns, including the go-ahead 91-yard score with two minutes left, and returned a punt 45 yards for another score in a 49-48 win over North County.
DC
National Collegiate QB Eugene Dunmore completed 11 of 14 passes for 220 yards and seven touchdowns in a 50-0 win over Phelps.
HOWARD
Howard LB Ryan Kearney led a strong defensive effort as the Lions limited 2,000-yard rusher Wande Owens to 39 yards on 17 carries in a 34-0 win over Glenelg.
LOUDOUN COUNTY
Woodgrove RB Josh Johnson rushed 26 times for 256 yards and two touchdowns in a 42-14 win over Massaponax.
MONTGOMERY
Northwest RB Junior Farri returned a kickoff 95 yards for a touchdown, rushed 15 times for 116 yards and two touchdowns, caught a 10-yard touchdown pass, intercepted a pass on defense and kicked extra points in a 53-36 win over Wootton.
NORTHERN REGION
Wakefield RB Rodney Lee rushed 22 times for 193 yards and three touchdowns in a 37-27 win over Washington-Lee.
PRINCE GEORGE'S
Gwynn Park WR-DB Terrell Lindsey scored on an eight-yard run and returned an interception 30 yards for another touchdown in a 24-12 win over Potomac (Md.).
PRINCE WILLIAM
Battlefield QB Trevor Walker threw two touchdown passes, rushed seven times for 117 yards and two touchdowns and returned a kickoff 85 yards for another score in a 55-19 win over Colgan.
PRIVATE
Georgetown Prep RB Jalen Hampton rushed 14 times for 210 yards and three touchdowns in a 35-7 win over O'Connell.
SOUTHERN MARYLAND
Northern QB Reese Crounse completed all 13 of his passes for 317 yards and five touchdowns, including four to Xavier Harris, in a 49-7 win over Calvert.