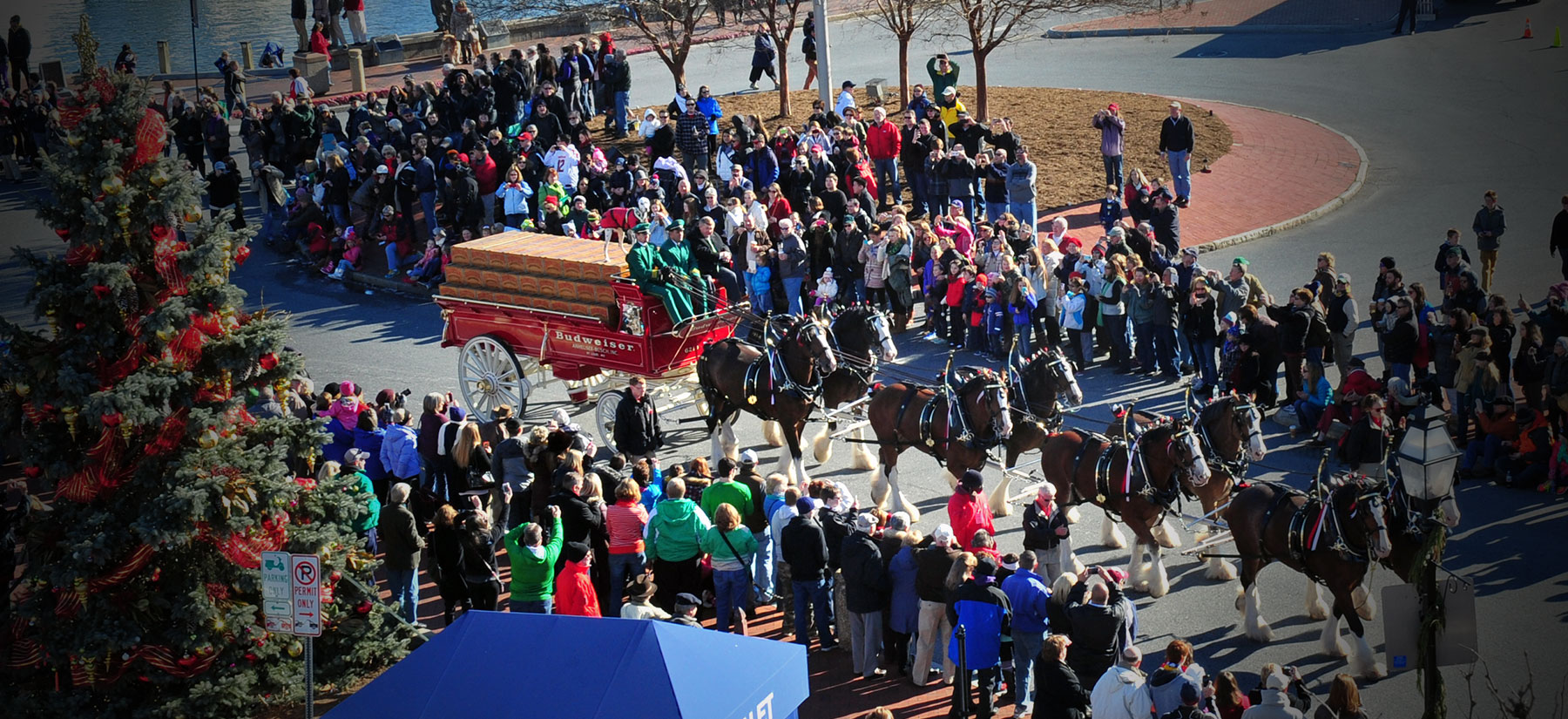 World-famous Budweiser Clydesdales once again headline the Military Bowl Parade
WASHINGTON, D.C. – The Military Bowl® presented by Northrop Grumman, benefiting the USO, announced today that the world-famous Budweiser Clydesdales will return to lead the Military Bowl Parade on Monday, Dec. 28. The parade, beginning at 11 a.m. ET, is one of several gameday traditions leading up to kickoff of the Military Bowl at 2:30 p.m.
As has become customary, a color guard will step off from City Dock, followed by the Clydesdales, an array of bands, civic organizations, mascots, cheerleaders, youth clubs and military-themed groups. Also featured will be several recipients of the Medal of Honor, the nation's highest military honor, which is given for personal acts of valor above and beyond the call of duty. The parade makes its way through the brick streets downtown to Navy-Marine Corps Memorial Stadium, where the Military Bowl Tailgate will be held in the Blue Lot on the stadium's west side. The tailgate begins at 9 a.m. Admission is free to both the parade and tailgate.
"The Clydesdales have become a Military Bowl tradition and they have helped the parade attract great crowds," Military Bowl President & Executive Director Steve Beck said. "There are so many exciting events surrounding our game and we are looking forward to making another big splash in Annapolis. We are appreciative of everyone's efforts, especially those at Katcef Brothers, Inc., and the city of Annapolis for helping organize these terrific experiences for fans at this year's game."
Groups interested in participating in the parade can register at militarybowl.org/parade. Please contact Military Bowl Director of External Relations Josh Barr at jbarr@militarybowl.org for more information.
Sponsorship opportunities for the parade are available; please contact Military Bowl Director of Development & Sponsorships Bob Treseler at btreseler@militarybowl.org for more information.
Navy, if it is bowl eligible and not selected to participate in one of the New Year's Six bowl games, will represent the American Athletic Conference against an Atlantic Coast Conference team in the 2015 Military Bowl. Kickoff is set for 2:30 p.m. at Navy-Marine Corps Memorial Stadium, and the game will be televised on ESPN. Fans are encouraged to purchase tickets by visiting militarybowl.org or calling 888-841-2787.
For the latest updates please visit militarybowl.org, follow on Twitter @MilitaryBowl or like the Military Bowl presented by Northrop Grumman on Facebook.