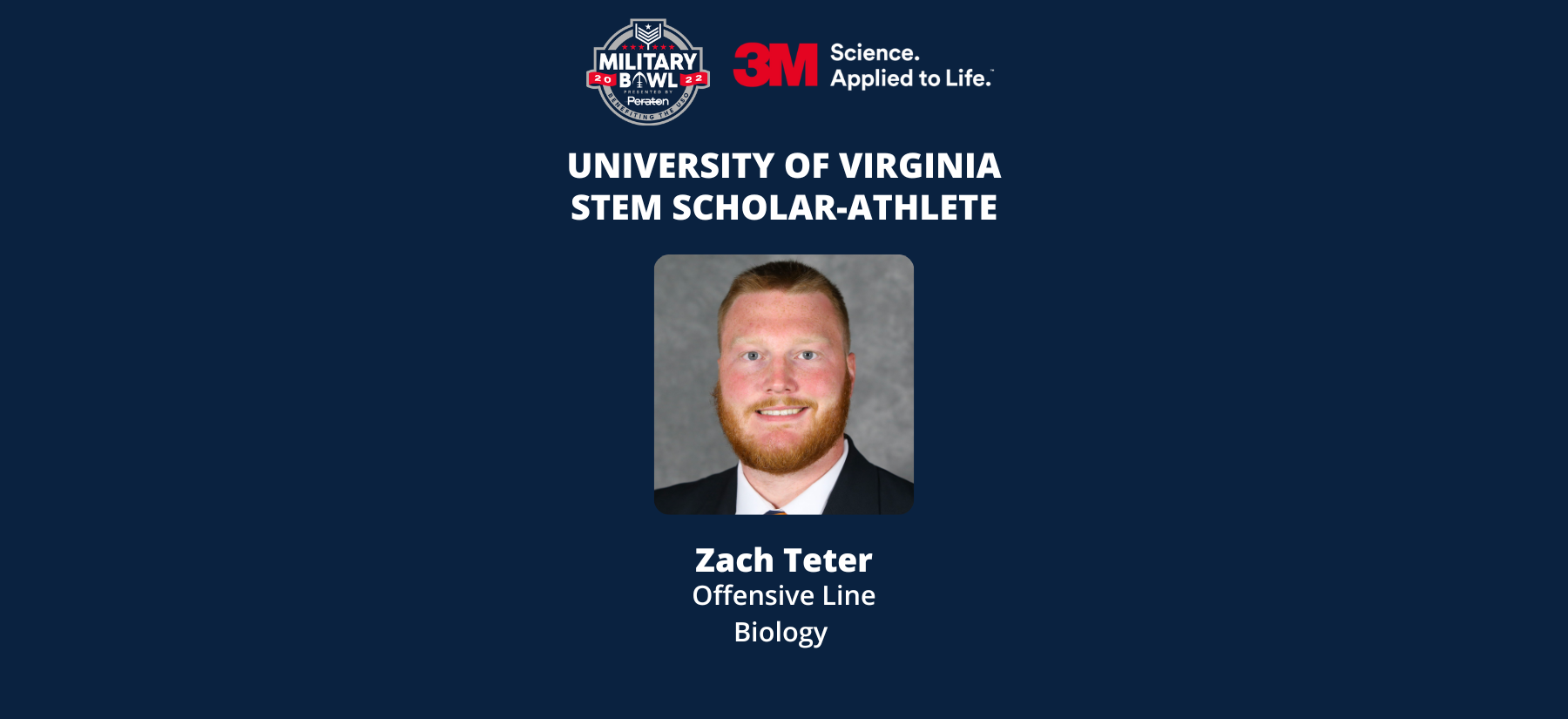 Zachary Teter, University of Virginia
University of Virginia offensive lineman Zachary Teter, a junior who is majoring in biology and aspires to become a physician assistant, has been named a Military Bowl 3M STEM Scholar-Athlete.
Teter, who is from Lakeland, Florida, has a 3.095 grade-point average and has been a member of the ACC Academic Honor Roll. His father, Doug, is the head athletic trainer for the Detroit Tigers baseball team, providing Zachary an inside look at the field of sports medicine.
Following graduation, Teter plans to pursue his athletic training credentials and work in sports medicine to gain hands-on experience before moving into a physician assistant role. He has shadowed his father during spring training, as well as Dr. Koco Eaton, the orthopedic surgeon for the Tampa Bay Rays.
"Zach's experiences as a student-athlete dealing with injuries, and growing up with a father who is an athletic trainer, have uniquely prepared him to enter the field of medicine," said Kelli Pugh, University of Virginia associate athletic director for sports medicine. "Despite his busy schedule as a Division I student-athlete, he has sought shadowing opportunities in athletic training and with physician assistants. Zach will be a compassionate, dedicated medical provider."
The Military Bowl and 3M are proud to announce the members of the second annual Military Bowl 3M STEM Scholar-Athlete Program, recognizing some of the brightest minds taking the football field in the ACC and the American Athletic Conference.
"Once again the Military Bowl 3M STEM Scholar-Athlete Program is shining a light on a remarkable group of student-athletes," Military Bowl President & Executive Director Steve Beck said. "These young men are leaders on and off the field, taking head on the challenges of rigorous course work while helping their teams every Saturday."
The Military Bowl 3M STEM Scholar-Athlete Program honors one football player at each university that is a member of the ACC and the American Athletic Conference – the two conferences that are represented in the Military Bowl college football game. These players are studying STEM (science, technology, engineering, math) subjects and/or aspire to STEM careers.
"3M is excited to recognize these outstanding students pursuing degrees in STEM-related fields," said Skip Driessen, Director of 3M Government Markets. "We know how hard these scholar-athletes have worked on the field and in the classroom and look forward to their continued success."